In this post, I'll show you How to flip a website. It doesn't matter if you want flip websites you build from scratch or websites you bought at a marketplace. After reading this post, you'll know exactly what your next step should be and how to increase your chances of success.
We'll discuss:
The pros and cons
How much you can earn
If you should build a website from scratch or buy one
How to increase the value of a website
How to find prospects that would buy your website
What is website flipping?
Website flipping is the act of acquiring or building websites with the goal of reselling them for profit. There is an enormous market for website flipping. There are people that have made it their full-time profession to buy or create websites from scratch and re-sell them.
What kind of skills are needed for website flipping?
It depends on what method you want to use for website flipping but at the least, you'll need this:
Basic knowledge of WordPress
Basic website analytics knowledge
Basic SEO knowledge
Pros and Cons
Pros
You can make a huge profit
You can even make money with low performing websites
You can increase the value of a website relatively easy
Cons
It takes time to increase the value of a website
The market and its demand can change while you build your website
Selling websites can cost money
No recurring income after selling the website
How much can you earn?
It all depends on your website I have seen people earn up to $100K for a single website. As a rule of thumb, I always go with how much money the website would make in the following 24 months and sell it for that price.
You could also compare your website with similar websites that are being sold. The one thing you shouldn't do is use the prices you get from websites that claim to calculate the value of your website in a few minutes.
These websites have algorithms that don't take a lot of elements into account that could increase the worth of your website to others.
The biggest misconception when it comes to selling websites
When I started creating niche websites I was told about the market that exists for selling websites but I thought the only websites that got sold were the ones with a lot of traffic and revenue.
This isn't true!
There are a lot of brand new websites being sold. An example of brand new websites that get sold a lot are niche websites with a lot of high-quality content targeting low competition keywords.
People that are good at building backlinks tend to buy these websites because they don't have to create content. They can just build a few backlinks and see the traffic skyrocket.
Should you Build or buy a website?
Buying or building?
This is a hard question which I can't answer for you. The only thing I can do is lay out the process of both of them and then you can decide for yourself which method you prefer.
Building a website to flip
Building a website from scratch is often seen as a long-term project. There's a lot that has to be done before you can sell your website such as:
Picking the right niche
Choosing a fitting domain name
Choose the right hosting for your website
Optimize your website for search engines
Build a traffic stream (preferably organic traffic)
Build a brand around the website
Having to do these things isn't the only reason building a website from scratch is considered a long-term project. Brand new websites don't rank well in the first few months.
Google has denied it many times but in the SEO community, it's believed that brand new websites don't rank no matter how low the competition is because Google wants to confirm that it's not a spam website. The SEO community calls this phenomenon the Sandbox.
Buying websites to flip
Buying websites can be a lot less time-consuming because a lot of the work has already been done. This doesn't mean that you can just flip it after buying it in most cases.
Instead of building the website, in this scenario time will be spent researching websites so you can pick the right one. You're going to have to research things like:
The authority of the website
Revenue
The popularity of the niche
Monthly traffic
Things you can improve
Some of the information will be one the website you buy it from (although not always accurate) and the remaining information you're going to have to find yourself. Tools such as Ahrefs and SEMrush can go a long way when it comes to determining factors like these.
How to increase the value of a website 
Whether you're building a website from scratch or buying it I recommend increasing the value of the website. The goal is to make a profit otherwise you're just wasting time.
You do this by first doing a simple gap analysis and answering questions like:
What does this website lack?
What can be improved?
What small tweaks will have the biggest impact?
These are broad questions so to give you some direction I have listed some website elements that create value for potential buyers.
Website elements that create value
There are a few factors you have to keep in mind when trying to evaluate the worth of a website.
As I said, there are a lot of websites out there that claim to calculate the value of your website in minutes just by inserting your domain name but these are often so wrong it's almost funny.
To truly calculate the worth of a website you need to be familiar with the elements that create value such as:
1. Revenue
How much income does the website generate? Monthly, yearly, does it have seasonal dips?
What method is it using to generate income? Advertising, Affiliate Sales?
Is it recurring income or one-time sales
2.Type of website
What type of website are you trying to sell? An online community, Review website, eCommerce website, etc.
Does it have returning viewers or are they just looking for a one-time answer for a question?
3.Traffic
Is the website out of the sandbox (period a brand new website cant rank high)?
How many monthly views does the website get?
How long are viewers staying on the website on average?
Is the website optimized for search engines?
4.Keywords
What kind of keywords (Buyer keywords or informational keywords) is the website targeting?
Is the website ranking for the targeted keywords?
Are there unintended keywords that the website ranks for?
5.Off-page assets
Is the website active on social platforms?
Does the website have an email list?
How many backlinks does the website have directed to it?
These are all elements that you can work on to increase the value of a website but remember the goal of website flipping is to make a profit. This means you don't have to work on these websites till they're worth tens of thousands of dollars.
Simple small tweaks can do a lot for a website you're trying to flip.
How to find prospects
There are hundreds of websites that sell websites and can connect you with potential buyers but I'd advise you to use these as your last resort.
Why?
Because using these websites almost always brings costs with them. Most of these websites require you to pay for listing on the website.
Here are some alternatives I'd try out first.
Pitching to your social circle
It's not uncommon that people bond over liking the same activities so it could be possible that among your friends and family are people that be interested in buying your website.
I wouldn't advise harassing them like a multi-level marketer but mentioning it one time and see who bites couldn't hurt.
Pitching to your audience or email list
An established website most likely will have an audience or an email list. These people already are interested in the content or services that you provide so they might be interested in buying your website.
Auction websites
If you cant find people interested you can list your website on online auctions. In most cases, you'll have to pay for listing and there is no guarantee that you'll succeed but the number of people you can reach will be a lot higher especially if you can find a good online auction.
Here are a few websites you can use to flip your website.
Website: Flippa
Flippa is one of the most popular websites and is also one of the oldest website marketplaces. High-quality websites are sold fast on Flippa.
There's one thing you have to take into account when using Flippa for flipping websites. Flippa isn't that strict with their listings so it can occur that people lie about the number their websites produce. This is why you should always do your research before buying a website.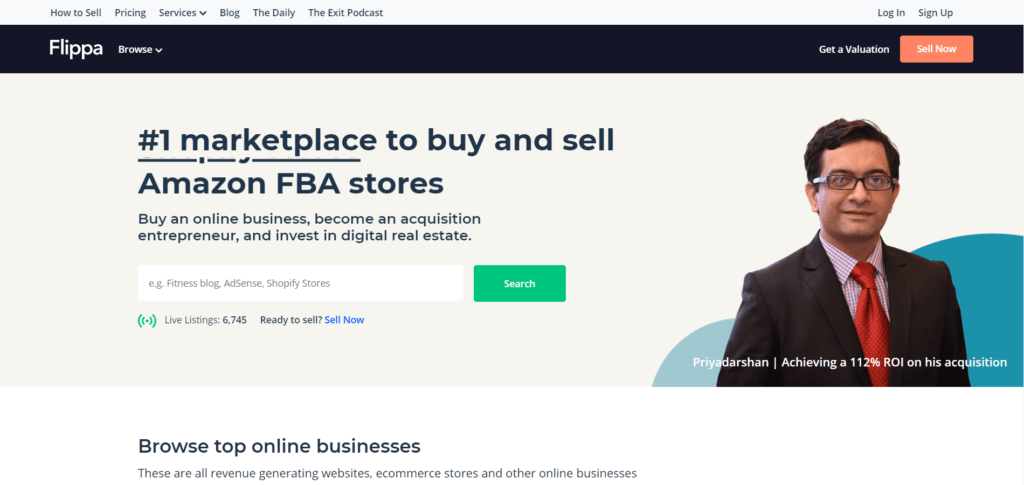 Website: Empire flippers
Empire Flippers is a bit stricter than Flippa. They monitor their listing regularly to make sure people arent getting scammed when buying websites. A basic listing on the website is $297 so be prepared to pay for it.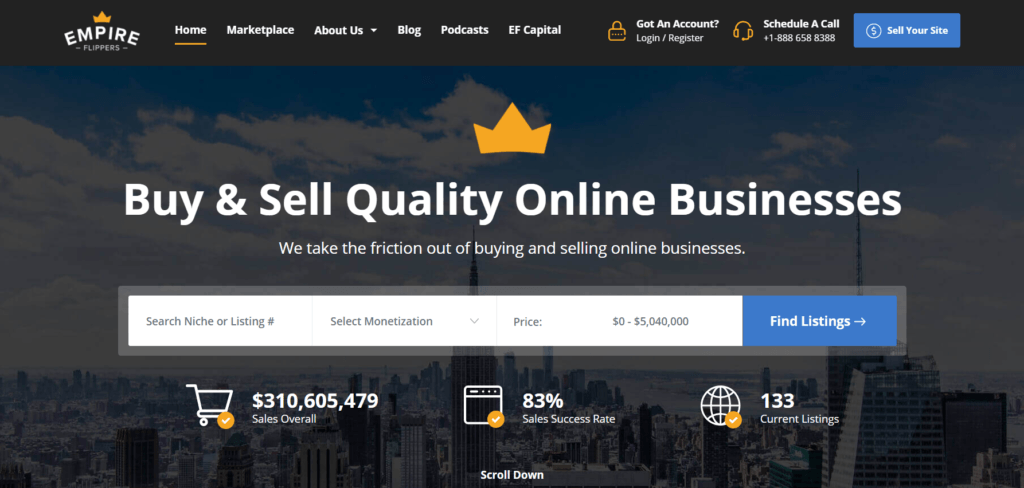 Website: Hello Exit
Hello Exit is mostly known for dealing with aged domains and just like empire flippers are strict with its listings. Hello Exit tends to be more attractive to people buying websites than selling them.
Final Words
Flipping websites is simple but that doesn't mean it's easy.
It requires patience and an eye for detail when it comes to finding ways to increase the value of websites. That being said, I have full belief that anyone that puts their mind to it and is willing to invest the time can succeed.
Interested in flipping websites or you just want to show some love leave a comment in the comment section.