You probably came to this page because you wonder if Monat is a pyramid scheme or a legit opportunity.
No need to worry you're in the right place.
Over the last years, I've been busy creating reviews about all kinds of online products.
Some turned out to be fake others were legit ways to make money online but in the process, I learned how to spot scams.
In this post, I'm going to compare Young Living with the official definition of a pyramid scheme to answer the question if Young Living is a Pyramid scheme.
Young Living Review — Is Young Living A Pyramid Scheme?
---
Overview
Name: Young Living
Website: youngliving.com
Founder: Donald Gary Young
Product Type: MLM company
Price: Minimum $35 for starters kit
Rating: 1/10
Summary:
Young Living is an MLM company that sells Essential Oils and products that contain essential oils. After looking into Young Living I think the chance that Young Living is a pyramid scheme is high.
It is possible to make money with Young Living but it isn't worth the time and energy in my opinion. Read below why I came to this conclusion.
Similar to: It Works!, Monat Global, Amway Global
Rating: 1/10
Recommended: No

---
What is Young Living?
Young Living is an MLM company founded by Donald Gary Young. It sells essential oils and does that by having a large focus on recruiting independent sellers and paying them commissions based on the products they sell and the people they recruit.
"…We enhance and empower lives around the world by sharing the unique benefits of nature's living energy–essential oils…"
Young living is active in and shipped products to over 200 countries.
In 2017, Young Living surpassed $1.5 Billion in sales and they haven't shown any signs of slowing down. They are seen by most as the market leader in selling essential oils.
Their focus on recruiting often sparks up the question if Young Living is a pyramid scheme.
If this is true you'll find out at the end of this post.
How to get started with Young Living?
There a simple 3-step process that you need to follow to get started as a Young Living distributor.
1. Sign-up
You can sign-up on the official Young Living website. You'll also be obligated in the process to buy a starter kit which basically is a package full of Young Living products that you can sell.
2. Buy Products at a special retail price
As a member, you'll get a 24% discount on the purchase of Young Living products that you'll have to resell.
3. Keep the surplus
The surplus of your sales is for you to keep.
Things to take into account before joining:
You're eligible to make commissions once you enter your third month.
The people that are making the most money are recruiting
You'll have to stay active to keep making money
How much does it cost to join Young Living?
Like most MLM companies, you'll have to make a financial investment to join as an independent seller.
How much you'll have to pay differs per country. For this post, I mostly focused on what it'd be like if you joined Young Living in the United States of America but most countries seem to be around the same price range aside from 4 exceptions.
When you sign-up you'll have to buy a starters kit that contains samples, guides, magazines, and methods to keep up to date with what is going on with Young Living.
You have multiple kits that you can choose from starting with the "basic" starters kit which is the cheapest at $35.
To be honest, I didn't even notice they had the basic kit at first sight because they predominately feature the premium starter kit and have the basic starters kit in a side tab but you can start off at that price.
These are the kits that were available:
Basic, $35
Premium Starters kit, $165
Thieves starter, $125
Welcome home starter, $125
Ningxia starter, $135
CBD Premium starter, $165
Extra-strength CBD Premium Starter, $250
$35 is the bare minimum needed to join Young Living to be able to earn money by getting the surplus of the products you sell. If you want to start earning a commission, you'll have to become an essential member.
---
Young Living Products
Young Living is known for its essential oils.
According to their website, Young Living has more than 500 kinds of essential oils which is insane if you ask me but Young Living seems to make it work.
Aside from the oils, they also sell products that contain their essential oils.
These are mostly household products for facial care, soaps, bath gels, lotions, hair care, diffusers, animal treats, perfumes, and more.
The majority of the products I have seen on the website seem affordable but what about the quality?

Are Young Living Products Legit?
A lot of people try to make money selling Young Living products which makes it hard to find honest reviews on the standard websites I look for reviews such as YouTube or simply Googling reviews.
In the past, Young Living essential oils have had problems with the FDA because some of their distributors promoted their oils as drugs that could help against Alzheimer's, Ebola, Diabetes, and a few other diseases.
This is why I think there's value in looking at user rating websites since it prevents people from selling the product after they have rated it.
That being said, It's a hard thing to prove if essential oils are legit because they don't really cure anything. According to the FDA website it considers most of Young Living's essential oil-related products cosmetics.
The only products that might be the exception would be the CBD oil products but even these are carefully promoted as energy boosters.
On Trustpilot, most people seem to be satisfied with the quality of the products but not the service Young Living provides. The only big thing that has been brought up that people seem to be frustrated with regarding the quality of the products is the price.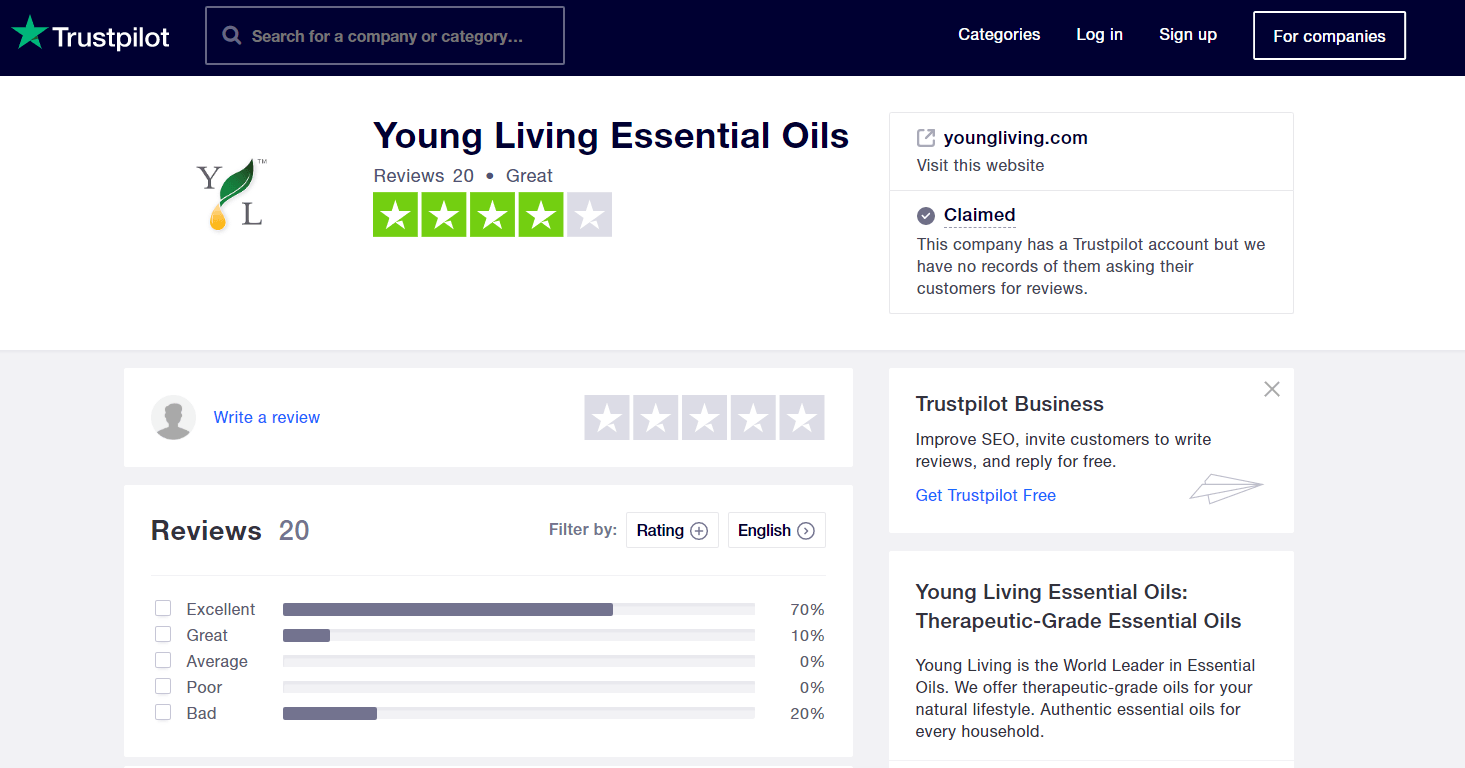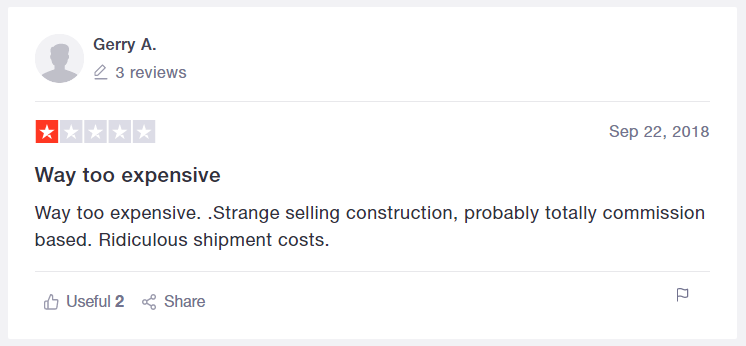 ---
Young Living Compensation Plan
Just like every other MLM company, they have an overcomplicated sales model that explains how they pay their distributors.
As you have read earlier in my review, most people start to earn money by selling products and getting the surplus.
If you become a wholesale member you can buy the products at a reduced price which is 25% cheaper which means your surplus will be bigger.
In your first three months, you have a few bonuses you can earn.
The fast start bonus
Earn 25% on every new member you enroll.
Starterskit bonus
A one-time $25 cash bonus for every new member that you enroll in and purchases a premium kit.
Rising star bonuses
After your initial 3 months, you'll become eligible for other bonuses. From this point, you're able to earn commissions based on "shares" in the company.
You get these shares based on the products you buy, resell, and the products your recruits buy and resell.
You'll be placed in ranks and depending on you and your "legs"(Your downline of recruits) you'll move up the ranks and start earning more money.
Here's a simplified video, explaining exactly what is needed to start making a substantial amount of money with Young Living.
---
Young Living Earning Potential
How much can you make with Young Living? In theory, you could make an average of more than a million-dollar per year according to their income disclosure statements but what is the chance of you getting to this point?

88,8% of Young Living on average earns $4 and that doesn't even include the expenses you make just by joining Young Living.
I'm not saying it's impossible to make money as a member of Young Living but the chances of you losing money are that much higher than earning money.
---
Young Living Class Action Lawsuit
While some people seem to be satisfied with the services Young Living provides others are of the opinion that its one big scam. Right now there's a class-action lawsuit against Young Living.
According to the Penhall vs Young Living Class action lawsuit, there are multiple reasons why Young Living should be seen as nothing more than a pyramid scheme such as:
1. Not allowing members to earn a commission in the first three months.
Most distributors earn almost nothing in the first 3 months by selling products and keeping the surplus. As a result, they're forced to recruit people and have them buy their premium packages.
2. Ignoring the FDA's 70/30 rule.
A federal trade ruling obligates MLM companies to not encourage members to buy more products before selling at least 70%. According to the lawsuit, Young Living doesn't abide by this ruling.
3. It's almost impossible to make money
The over-complicated model according to the lawsuit makes it almost impossible to earn money.
---
Is Young Living Essential Oils A Pyramid Scheme?
Now with all the information gathered let's answer the million-dollar question.
Is Young Living a pyramid scheme?
Let's first clearly define what a pyramid scheme is.
Here's one of the definitions of a pyramid scheme given by Merriam-Webster:

"a dishonest and usually illegal business in which many people are persuaded to invest their money and the money of later investors is used to pay the people who invested first"
Young Living identifies itself as an MLM business (which is Legal).
According to the Balancesmb, the difference between an MLM and a Pyramid scheme is that a P.S. only focuses on recruiting people while an MLM has an actual product they're focused on selling.
Judging from that definition and the difference between an MLM and a Pyramid Scheme, let's look at what we found out.
Young Living uses a pyramid structure to sell their products
Commissions mostly are based on the people you recruit and their performance as distributors
88% of people are making almost no money
The majority of members are making an average of $4 excluding business expenses.
There's a class-action lawsuit going on against Young Living
A lot of members are of the opinion that Young Living is a pyramid scheme.
Young Living does sell products
They do have products that are being sold.
When you look at the compensation model most money is made by less than a percent of the members and most people never get to the break-even point where they start to make a profit.
I can't say this with 100% certainty but based on what I found out about Young Living I think the chance that this is a pyramid scheme is high.
Is it possible to make money with Young Living? Yes, but the deck is without a doubt stacked heavily against you.
---
Final Thoughts
Even if it turns out that Young Living isn't a pyramid scheme I wouldn't be comfortable recommending someone to join. It just isn't worth the time and the effort and the chance to succeed is unbelievably low.
It's because of these kinds of websites that I'm thankful I found a method of making money online that works for me. In 2018, I created a niche website that brings in commission through affiliate marketing.
To start I wasn't obligated to:
Recruit people
Pay a starters fee
Resell products
I simply make content about subjects I'm interested in and add affiliate links that go to merchant websites. Every time someone buys a product on one of these merchant websites I get a commission.
Interested in finding out how I created this business?
That's all for today.
If you have any questions or you just want to show some love don't hesitate to leave a comment.
See you at my next post!