This is a comprehensive 2018 WPbakery Review. The page builder is formally known as the Visual Composer.
Wondering what…
the WPBakery Page builder is
the pro's and cons of WP Page builder are
people would benefit from using WPBakery Page builder
kind of features and tools WPBakery Page builder provides you with
support WPbakery Page builder provides
WPbakery Page builder costs
My personal take on WPbakery Page builder
the final verdict is on WPbakery Page builder
You're in the right place!
RealDigitalSuccess.com presents the…
The 2018 WPbakery Page builder review
Name: WPbakery page builder ( formerly known as the visual composer )
Website: wpbakery.com
Founders/Owners: Michael Makijenko
Price: $45 – $245
Overall ranking: 7/10
WPbakery Page Builder overview
WPBakery page builder (formerly known as the visual composer) is a page builder plugin that gives you the freedom to make your websites exactly as you envision them.
---
The Good & The Bad
The good
Pro #1 No coding needed
The WPbakery page builder has a frontend and backend editor that allows you to create the website you want without knowing anything about coding. You don't have to hire anyone to make your website you can just do it yourself which can save a lot of time and money.
Pro #2 Responsive pages
Nowadays a lot of people surf the internet through their phones and the number of people doing that grows every day. Having a website that isn't mobile responsive will make you miss out on a lot of website visitors. Luckily the WPbakery page builder has options to design the look of your website for every device including your phone.
Pro #3 Custom Widgets included
The WPbakery page builder comes with a variety of custom-made widgets that you can use to customize your website. Most of these can't be found anywhere else which can give your website a unique feel.
The bad
Con #1 Slow when it comes to making changes
There's nothing wrong with the site speed but I did encounter some problems when it came to changing things like the background of your website. It's nothing that'll intervene with making a quality website but the slow loading of background images can get a little annoying.
---
Who is the WPbakery Page Builder for?
The WPbakery page builder is for:
Hobbyists
Solopreneurs
Website designers
Internet marketers
Small Businesses
Large-scale businesses
Everybody that wants more design control than the standard WordPress templates can give you.
---
WPbakery Page Builder tools & training
Frontend editor
With the frontend editor, you can easily design the layout for your website. The editor itself is intuitive and gives you the what you see is what you get experience.
The front editor:
Has drag and drop capabilities to make building a layout for your website as simple as possible.
Improves user experience by highlighting the type of elements you add in different colors.
Responsive design controls that help with creating responsive pages.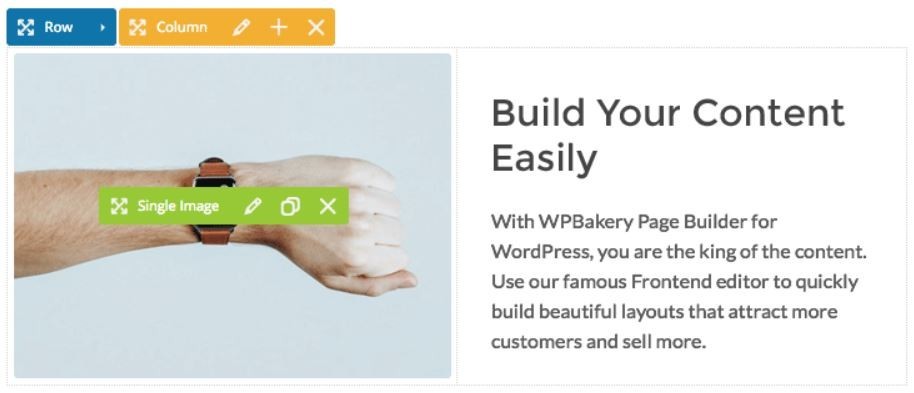 Backend editor
WPbakery also has a backend editor which makes it possible to create your website straight from your WordPress dashboard. The backend editor also has a drag and drop feature but divides everything into blocks, rows, and columns. It's less intuitive than the frontend editor but makes it easier to see the "big picture" of what you're creating.
Template library
The Template library consists of hundreds of high-quality templates for layouts. The layouts make it possible to have a professional website up and running in no time. With the help of the editor, all the layouts are easy to edit.
You'll also get free stock images that you can use as placeholders for the templates.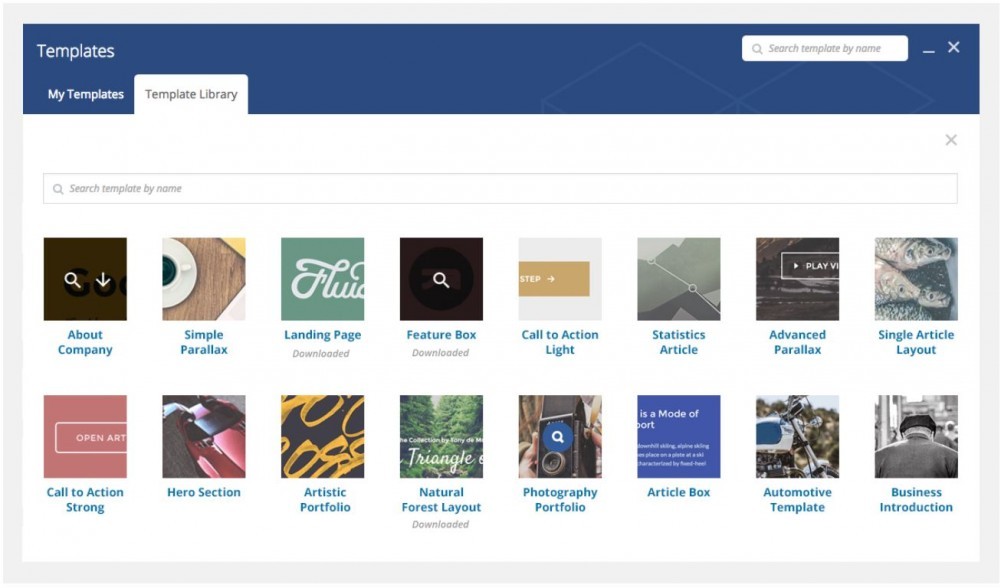 Content elements
The moment you buy the WPbakery Page builder you get access to their content elements. There are 50+ content elements that can help you with creating the website you want. You just drag the content element to the part of your website where you want it.
It's also possible to get 250+ more content elements by buying their add-ons.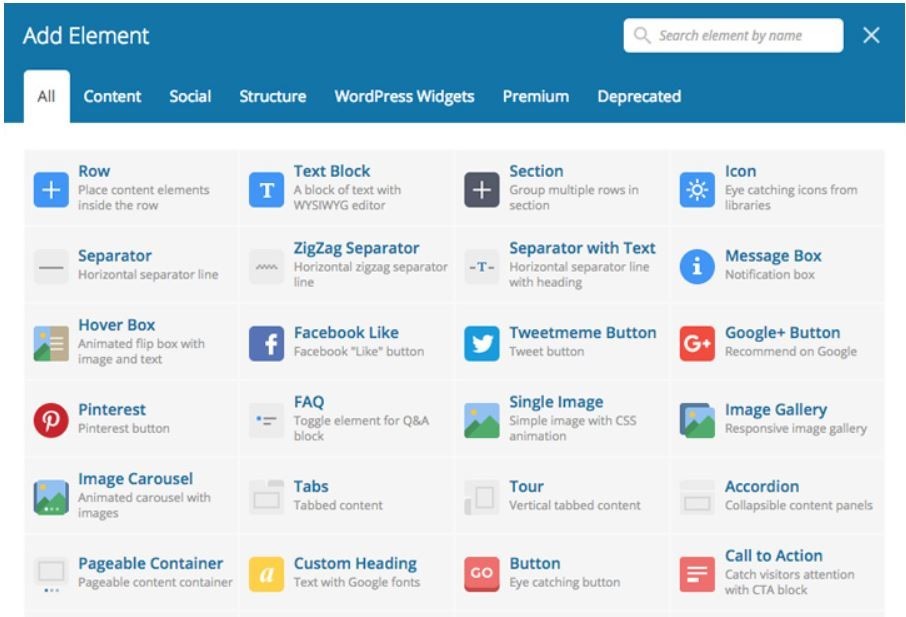 Here's a list of all the basic content elements available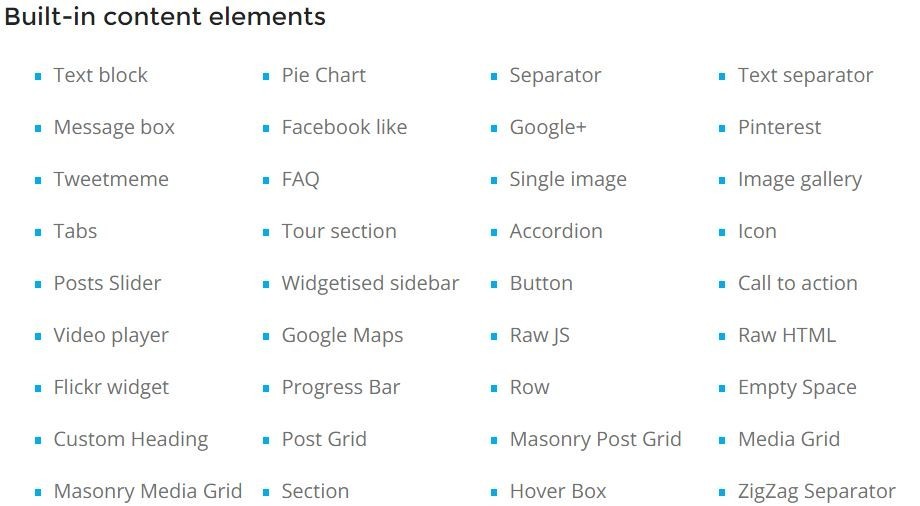 Skin builder
The WPBakery skin builder makes it possible to change the appearance of the page builder content elements. You can style your elements the way you seem fit and blend in with your corporate and brand identity. Not only the content elements but the theme itself can be customized with the skin builder.

Responsive pages
With the WPbakery page builder responsive options you can make your website look good on any device. No extra coding skills are needed. You can simply alter the way the elements of your website are stacked on each device from the computer to even the mobile phone.
Control the size of the content elements
Edit the readability of the text
edit the size of columns
Choose the device type and start making the changes you want.

Advanced Grid Builder
The WPbakery page builder comes with an advanced grid builder and grid templates that easily makes it possible to present your portfolio, posts, media in the exact way you want. You can add filters, control paging, gasps and width from predefined styles. You'll get 40+ predefined grid element styles and grid element options.
Examples of different grids: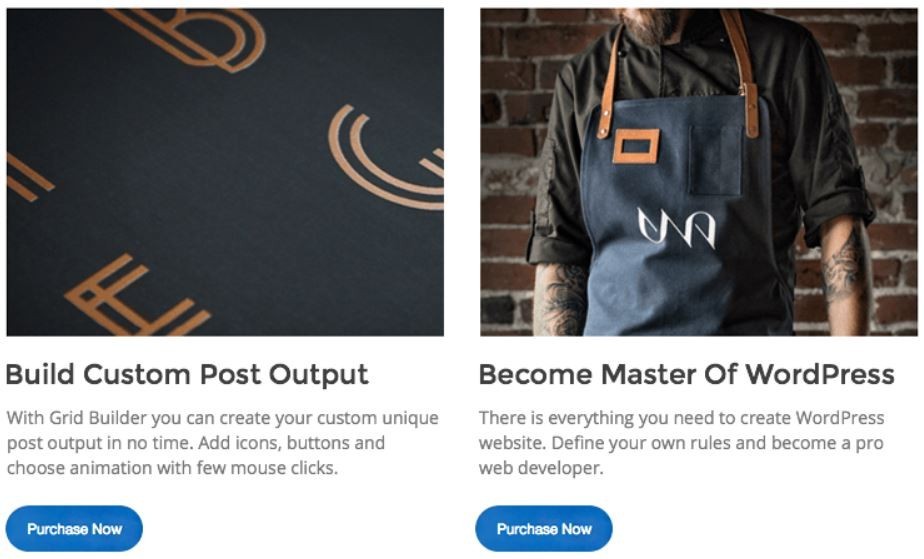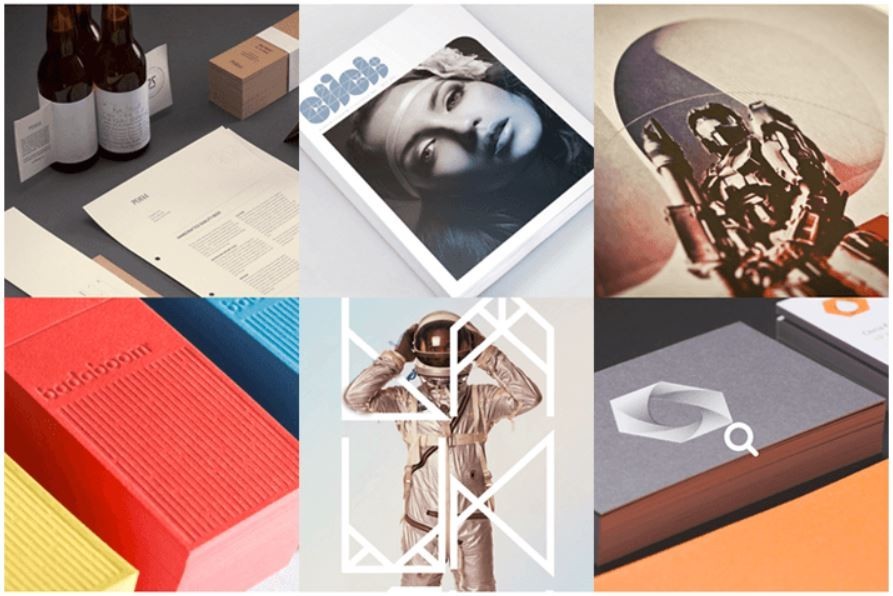 ---
WPbakery Page Builder Support
WPbakery support team
For all your questions you can go to the WPbakery support team. They work from Monday to Saturday and work with a ticket system which allows you the progress of solving the problem.
Knowledgebase
WPbakery has a database with frequently asked questions and information about how to integrate WPbakery page builder with your theme and create add-ons.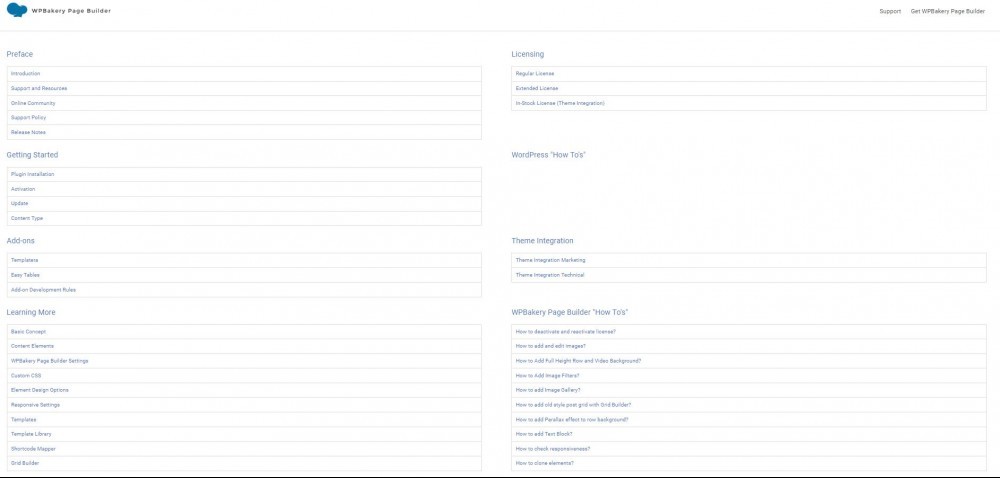 Video Academy
WPbakery has a section they call the Video Academy. You can find all kinds of videos that'll help you get started with WPbakery. They also have videos with tips and tricks so you can get the most out of WPbakery page builder.
---
WPbakery Page Builder price
There are two plans you can purchase for the WPbakery:
The regular plan for $45
The extended plan for $245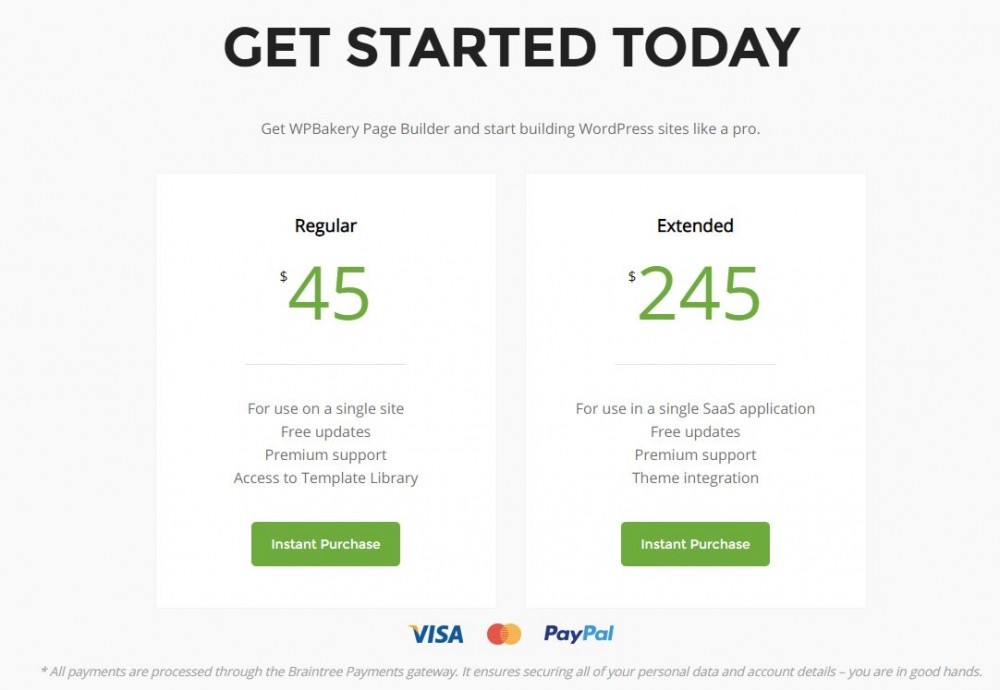 ---
My personal take on WPbakery Page Builder
The WPbakery page builder ( formally known as the visual composer ) was the first-page builder that gave you full control of how you build your website without needing to learn to code. Till this day I still find it a good page builder but I have seen better ones out there, to be honest.
I've read more than a few reviews about it say that the editor isn't intuitive but they solved that problem with the frontend editor. My only problem lies with how slow it can be with uploading background images but that's it.
Overall an adequate page builder.
---
WPbakery Page Builder overall overview
Name: WPbakery page builder ( formerly known as the visual composer )
Website: wpbakery.com
Founders/Owners: Michael Makijenko
Price: $45 – $245
Overall ranking: 7/10
---
Verdict
The Judges of RealDigitalSuccess find the WPBakery page builder…
ADEQUATE!
---
If you have any questions about the WPbakery Page builder feel free to leave a question in the comments and I'll get back to you as soon as possible.
PS.
Having a great website builder is a good start but to get the most out of your website and make money with it you need solid hosting, knowledge, and peers that'll motivate you and help you when roadblocks appear.
This is why I advise taking a look at Wealthy Affiliate. Wealthy Affiliate is a community that helps people with creating websites and promoting them.
You can create a free account (No Creditcard Needed) and they'll provide you with:
Free Basic training ( Consisting of building a website, marketing it and making money off it.)
2 Free SiteRubix Domain names
Unlimited free hosting
Access to their online community where you can network with like-minded people.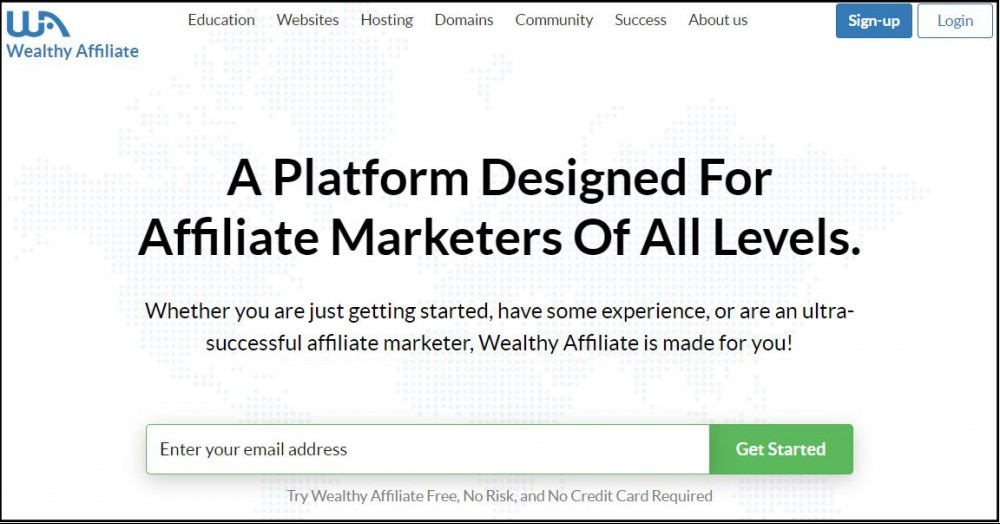 Check out my Wealthy Affiliate review to check out what Wealthy Affiliate is all about and take look at the comments to see what other people think of Wealthy Affiliate.