This is a comprehensive 2019 Affilorama Review. Find out everything you need to know about this affiliate marketing platform.
If you are wondering…
what Affilorama is
what the pros and cons of Affilorama are
who can benefit from using Affilorama
what kind of tools and features Affilorama provide you with
what support Affilorama provides
how much Affilorama costs
what my personal take on Affilorama is
If Affilorama is legit

Then wonder no more!
RealDigitalSuccess.com presents the…
2019 Affilorama review
Name: Affilorama
Website: Affilorama.com
Founders/Owners: Mark Ling, Simon Slade
Price: Free (basic), $67(Premium)
Overall ranking: 7/10
Affilorama, product overview
Affilorama is a website that helps people with setting up affiliate marketing websites and marketing them with the help of search engine optimization, pay-per-click marketing, content marketing and more.
---
The Good & The Bad
The good
Pro #1 Free basic membership
Affilorama has a really good basic membership program containing articles and video lessons that can help you with getting started. 
Pro #2 A lot of video training
They have a lot and I mean a looottt of video's you can watch to learn about affiliate marketing.
Pro #3 AffiloTools
It might not be really useful for beginners that don't have any traffic but the moment you get to the point you have traffic on your website AffiloTools can definitely be a game changer.
The bad
Con #1 The website and its content seems to be a bit dated
You can tell some of the video lessons on Affilorama are a little bit dated. 
Con #2 Forum isn't active
Having peers to talk to can be very valuable for a multitude of reasons like mentorship and motivation and Affilorama wanted to give that opportunity by creating a forum but the forum isn't active enough in my opinion.
---
Who is Affilorama for?
Affilorama is for everyone that wants to earn money online and turn it into a passive income.
You can benefit from Affilorama if:
You don't have any experience in online marketing
You don't have a lot of money
You just want SEO or pay-per-click marketing trainin
---
Affilorama tools & training
Affilorama Training Subscriptions
Free Training
Affiliate Marketing Quick Start Guide
Roadmap to success
Video lessons
Premium Training
Monthly magazine
AffiloTools
Web hosting for 15 domains
30 Monthly PLR Articles
AffiloTools
AffiloTools are a standalone product that you can use to aid you with website marketing. It's primarily focussed on the optimization of your website. You can use it for free if you have an Affilorama Premium account AffiloTools consists of three main components:
AffiloTools Component #1: SEO Tools
Tools that'll help with increasing your rankings on search engines.
You'll able to see where your website ranks
Track your rankings over time to look for fluctuations
See which rankings are bringing in the most traffic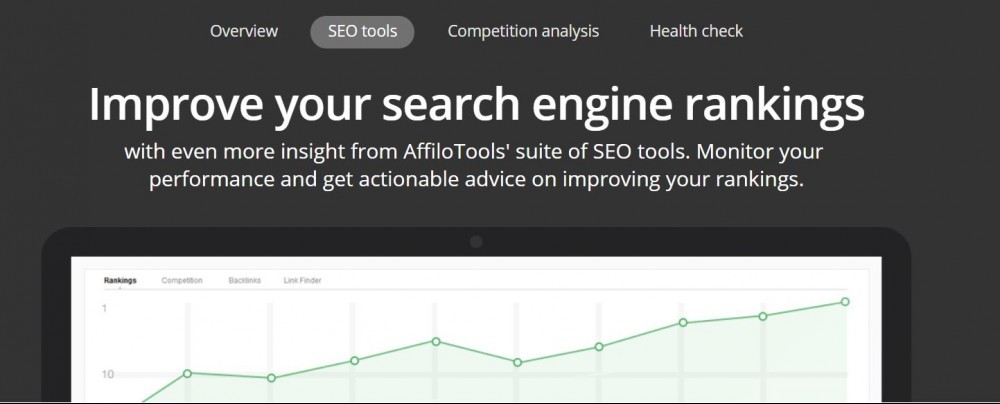 AffiloTools Component #2: Competition and Marketing Analysis Tools
Monitor the big players in your niche and find out what they're doing.
Find out where your competitors are getting their backlinks from
Get warned so you can see which people are aiming for your spot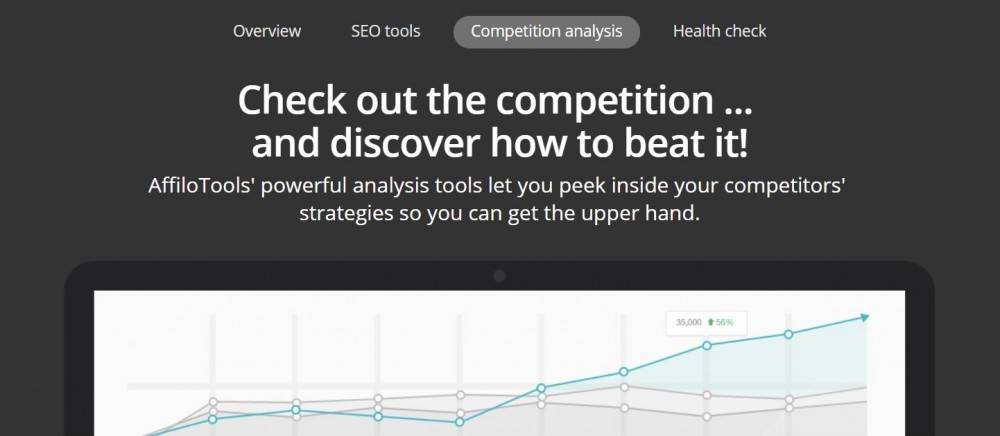 AffiloTools Component #3: Website Health Check Tools
AffiloTools keeps a close eye on your websites to see if there are any technical
issues that affect the website's performance.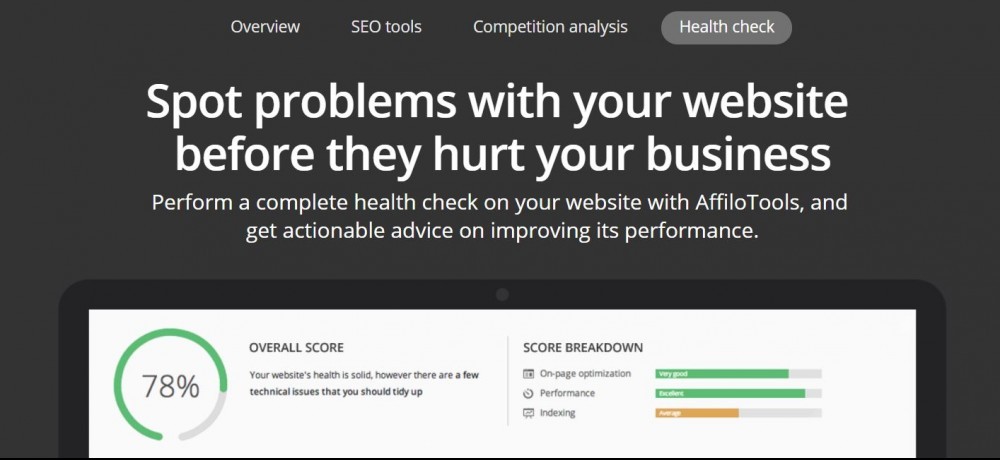 Stand Alone Training Products
Pathway to passive ($37, 60-day money back guarantee)
Pathway to passive is a guide created by Affilorama that shows content strategy that goes with building a niche website and earning money from it. It's designed for both beginners and experienced marketers to see where they can improve their process.

Affiloblueprint ($197, 60-day money back guarantee)
A step-by-step system that'll help you with creating a profitable website. It contains:
91 video lessons
Downloadable video's and notes
Progress tracker
Homework for each step

AffiloJetpack ($997, 60-day money back guarantee)
A package that gives you almost everything Affilorama has to offer.
Expertly written newsletter sequences ( 90+ emails written to build trust and make sales)
Learn how to create free reports to build up your email list
Website and 12 months of hosting
Content cheat sheets that help with creating quality content
---
Affilorama Support
Support team
Call
It is possible to call the Affilorama support team if you have questions or are facing difficulties concerning their product or services. The team is available for phone calls from Monday to Friday from 5 PM till 1 AM.
Email
You can email the support team and they'll try to get back to you within 24 hours. 
Forum 
On the forum there other members that can help you if you need support.



Blog
Learn more about affiliate marketing and other ways of making online by looking at the Affilorama blog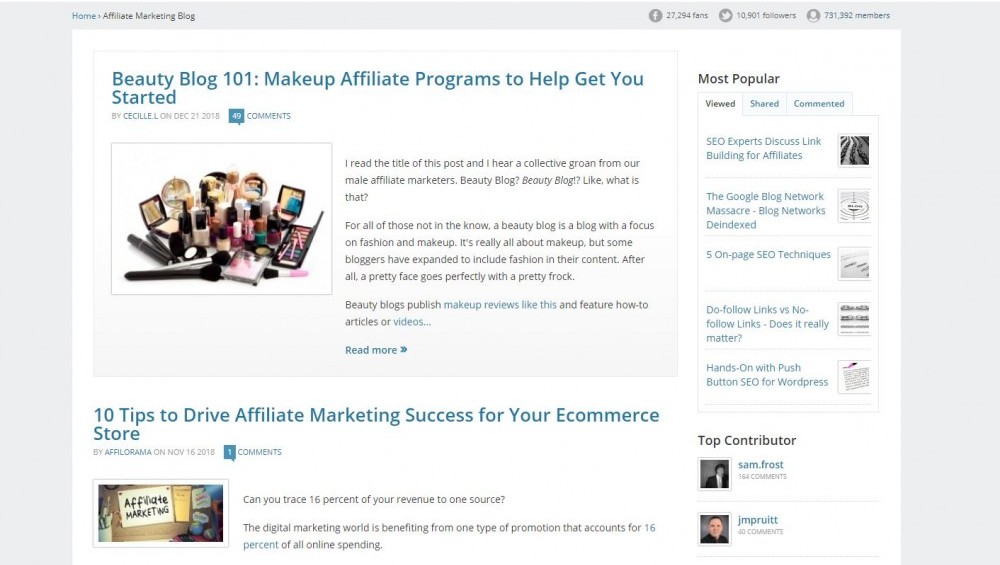 Knowledgebase
Affilorama has a database containing articles answering frequently asked questions.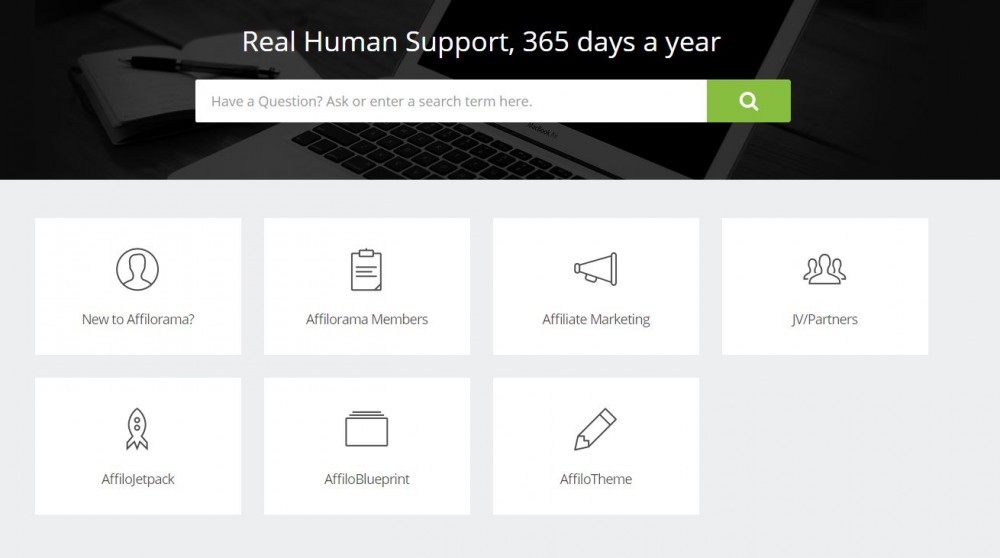 ---
Affilorama Price
Starter subscription
Free
Affilorama Premium
$1 for the first 30 days after that $67/ month.
---
Personal Take On Affilorama
Affilorama definitely has the tools to set up a website of which you can make money but some of the content on Affilorama seems a bit dated. The forum isn't active enough, in my opinion, to get support from and I've seen other affiliate marketing platforms that offer more support for a cheaper price. I have no doubt that you can succeed with Affilorama but I have to admit it's not the best affiliate marketing platform on the web.
My recommendation
If you really want to make the most out of your money I'd advise you take a look at Wealthy Affiliate. Just like Affilorama, it's a place where you can get affiliate marketing training. The difference is that it's cheaper, the training is regularly getting updated and the have a huge active community to support you on your affiliate marketing journey.
---
Affilorama overall overview
Name: Affilorama
Website: Affilorama.com
Founders/Owners: Mark Ling, Simon Slade
Price: Free (basic), $67(Premium)
Overall ranking: 7/10
---
Verdict
Real Digital Success finds Afilorama guilty of being a legit make money online product!