This is a comprehensive SendinBlue review. I found SendinBlue while looking for email marketing websites I could guest post for, and I noticed that there aren't a lot of people talking about SendinBlue even though they have a very impressive website that showcases a lot of good features.
Is this the result of not being a good email marketing tool or does it not get the attention it deserves? Let's find out right now.
Wondering if…
SendinBlue is worth the money?
it's valuable for people with and without experience in Email Marketing?
SendinBlue is Legit?
Good News!
what SendinBlue is
what the pros and cons of SendinBlue are
who can benefit from using SendinBlue
what kind of tools and features SendinBlue provides you with
what support SendinBlue provides
how much SendinBlue costs
what my personal take on SendinBlue is
RealDigitalSuccess.com presents the…
2019 SendinBlue review 
---
Name: SendinBlue
Website: https://www.sendinblue.com/
Founders/Owners: Armand Thiberge, Kapil Sharma
Price: $0 — $49
Overall ranking: 7.5/10
---
SendinBlue, product overview
SendinBlue is an email marketing service founded in 2012 by Armand Thiberge and Kapil Sharma. SendinBlue makes is possible to automate messaging to your, email list, create newsletters, and more.
---
The Good & The Bad
The good
Pro #1 Deliverability
Not everybody is aware of how your IP and domain reputation can affect your deliverability. I like how SendinBlue tries to solve those problems before they arise by offering IP's with a good reputation.
Pro #2 Broad terms of service 
As someone who's in the make money online niche, I know how hard it sometimes can be to find an email marketing service that allows you to promote affiliate products. I'm glad SendinBlue does.
Pro #3 Mail Automation across all features
The automation features of SendinBlue are excellent. Not only can you automate emails but also your SMS campaigns.
The bad
Con #1 Opt-in form Templates need more design options
You can't change a lot about the opt-in form templates. I would've liked to see some more design options so that the forms aesthetically fit with your website no matter what your website looks like.

Con #2  Can be glitchy at times
It's not a big problem but I do every now and often experience some glitches. Some buttons disappear out of nowhere but most of the time if you press on something else the buttons will appear again.
I wouldn't be surprised by the time I put this review out they've solved it but I thought I'd mention it just in case.
---
Who is SendinBlue for?
Sendinblue is originally designed for small businesses that want to make use of email automation without breaking the back but a lot has changed since 2012. There have been a lot of updates and when you use it you'll see they definitely have enlarged their target audience.
SendinBlue is beneficial for:
Solopreneurs
Freelancers 
Hobbyists
Small Businesses
Enterprises
Digital agencies
and everybody that needs email automation.
SendinBlue has very strict terms of services and you'll be immediately removed if you don't uphold them. That being said don't use SendinBlue if you're planning to use it for one of these topics:
Weight loss
Currency exchange, fraudulent shares, and stock market transactions
"get rich fast" promises, financial packages and pyramid schemes
Sexually explicit pornography or e-commerce
Remedies for erectile problems
Hiring solicitation
Initial Coin Offering (ICO)
There are also a few topics you can use but you'll have to ask for permission first.
Clairvoyance, fortune telling, and astrology
Gambling and other money games
Dating services
Communications to contacts acquired from social networks like LinkedIn and Viadeo
For some of these subjects it's pretty natural they wouldn't allow it like fraudulent shares and stock market transactions but say you're a legit personal trainer and you want to talk about losing weight or you're a legit dating coach this can be a problem.
That is why I've put a list of alternatives at the bottom of this review that'll allow these subjects
---
SendinBlue tools & training
Newsletter Building
You won't have to learn code to make email newsletters. SendinBlue has a drag and drop editor that you can use to create your emails. The overall interface reminds me a little of the new WordPress editor.
The newsletter is divided into multiple blocks and you can drag the design elements to each block.
They also have a variety of custom made templates that you can customize yourself. All the themes are responsive on all devices and you can preview them before uploading them.
The only thing I miss here is being able to decide where every element will be placed depending on which device it's shown on.
Sendinblue also makes it possible to make your newsletters more personal by using HTML to target your audience directly by including their names in the newsletters. 
Audience targeting
SendinBlue has put a lot of focus on making it possible to influence the process of subscribing for your email list. Sendinblue has a form editor to customize your opt-in forms.
Just like the Newsletter builder, it's a drag and drop system that eliminates the use of code.
You can choose between three different versions of the opt-in form that are all different in size and can be used for either article, landing pages or sidebars.
Marketing automation 
SendinBlue has a workflow library full of custom made workflows for people that have no experience with email marketing. No need to create your own communication funnel you can just paste your emails inside. 
To those that want more freedom when it comes to your email flowcharts. It's possible to create your own workflow from scratch and create the funnel you see fit.
Before launching them you can preview the workflow and see if all the conditions you've put in are fully functional. 
SendinBlue makes it possible to segment your email list into groups based on characteristics of your choice age, income, height everything is on the table. Being able to do this makes it easier to send more personal emails depending on the segment.
Scheduling 
With everything online, the chance that you have email subscribers in another timezone is very likely. SendinBlue makes it possible to find out when it's the best time to send a specific segment an email. This can have a massive effect on your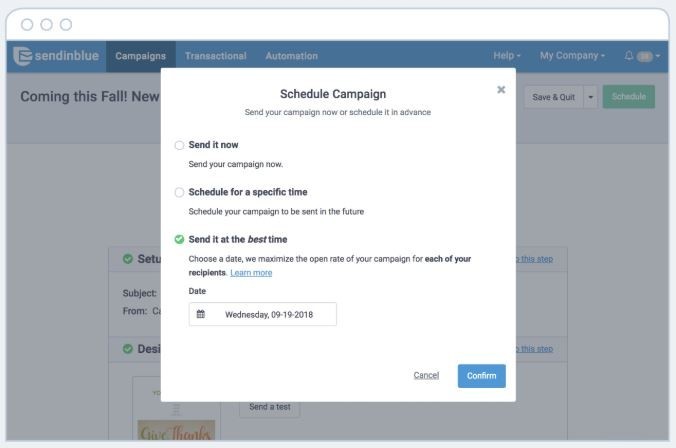 Performance monitoring
Analyze the effectiveness of your emails with SendinBlue their monitor tools. In SendinBlue you can monitor how many emails are being opened, the number of clicks your emails generate, and where the people are from that click and open your emails.
SendinBlue also makes use of heatmaps so you can get an insight into the click behavior of your email subscribers and how you can optimize your newsletters.
Sendinblue also makes use of real-time statistics so you can observe the performance of your email campaigns while they're occurring.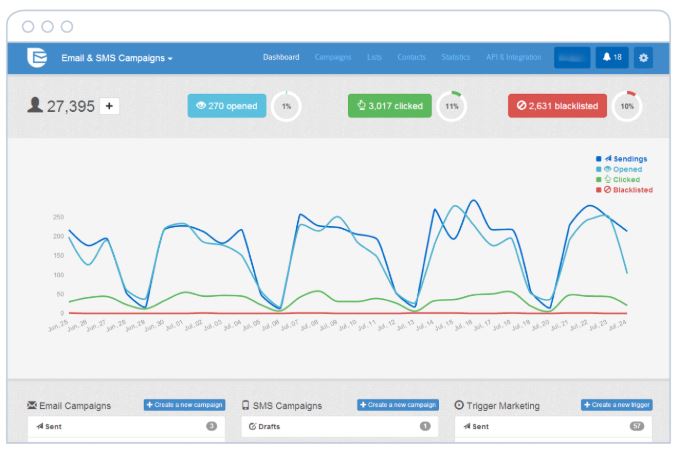 Integration
SendinBlue is compatible with a lot of online tools that can further help you get to your goals such as:
Content management systems (WordPress, Drupal, Joomla)
Social Media platforms
E-commerce platforms
Web performance tools
and more.
---
SendinBlue Support
Blog
SendinBlue has a blog on which they go over a variety of different subjects such as news, email marketing tips, and best practices for creating an effective email marketing campaign.
Email
The SendinBlue team can be reached by email. They respond relatively quickly and are eager to help solve problems concerning SendinBlue. 
Live Chat
If you want a faster reply try out their live chat. Just like with the email support they're willing to help you with your problems and unlike some other support teams from some email marketing services that I won't disclose they have a lot of knowledge about email marketing in general too.
Knowledgebase
It took me a while to find their knowledge base. After 10 minutes of searching, I realized that they call they just call it tutorials. The knowledge base contains a lot of content that can help you with your questions. 
It's a bit smaller than most knowledgebases I've encountered but they've put a good collection together nevertheless.
---
SendinBlue price
There are three different services you can make use of with SendinBlue and the all have multiple payment plans.
The Email Plan
The SMS Plan
The IP Plan
The email Plan
There are 5 different email plans some more limited than others.
Free, $0/ month
Lite, $25/ month
Essential, $39/ month
Premium, $66/ month
Enterprise, You'll have to set up a meeting with the team to discuss a price.
SMS plan
SMS marketing has become really popular and can be done with SendinBlue. Depending on how many messages you want to send the price will vary.
It starts with 100 messages for $12.76
IP plan 
Your deliverability is dependent not only on your email marketing service but also the reputation of your domain. I've written an article about it right here if you want the details. SendinBlue knows this so they sell IP's of which you can be sure that they don't have a bad reputation.
A domain costs $145/ year
---
My personal take on SendinBlue
SendinBlue, in my opinion, is an excellent email marketing service. All the features function properly and I can't imagine people having problems with it. Especially for someone like me who promotes affiliate products every now and then having an email marketing service that allows that is great.
The only thing I think they could improve on the customizing features from the opt-in forms. I'd like to see more design options so that the opt-in forms can be a part of the branding of your entire website.
---
SendinBlue overall overview
Name: SendinBlue
Website: https://www.sendinblue.com/
Founders/Owners: Armand Thiberge, Kapil Sharma
Price: $0 — $49
Overall ranking: 7.5/10
---
Verdict
Is SendinBlue Legit?
Real Digital Success Says Yes SendinBlue is Legit!
---
Alternatives For SendinBlue
Before you purchase an email marketing service plan somewhere I always advise you to read their terms of agreement/service.
There will always be a section about prohibited actions. In some instances when you violate the rules you can lose your account and even your email list.
Knowing this I can't randomly name some alternatives for you to try out. That's why I made this list with autoresponders based on what you might want to do with them.
The ones with links are the ones I've already made reviews of for you to read.

Email marketing services for beginners with small lists:
Email marketing services with broad Terms of Service:
Email Marketing service for marketers that want data-driven email marketing at a high level:
Email Marketing service for large businesses ( 6 figures )
---
Want to learn how to make money Online?
Take a quick peek at the online marketing training platform called Wealthy Affiliate that taught me how to create websites, market them, and monetize. 
The best thing about it…
You can create an account for free ( No credit card needed!)
These success stories have been taken from the member area.
---
---
That's all for today. If you have any questions or you just want to show some love don't hesitate to leave a comment in the comment section.
See you at my next post!