This is a comprehensive 2018 Aweber review.
Wondering what:
Aweber is
The pro's and cons of using Aweber are.
People would benefit from using Aweber.
kind of features and tools Aweber provides you with
what support Aweber provides
using Aweber costs
My personal take on Aweber is
the final verdict is on Aweber
You're in the right place!
RealDigitalSuccess.com presents the…
2018 Aweber review
Name: Aweber
Website: Aweber.com
Founders/Owners: Tom Kulzer
Price: 30 Free trial, $19 – 149/ month
Overall ranking: 7.5/10
Aweber, product overview
Aweber is a platform that provides an email marketing and automation service. It gives you the possibility to communicate through email with a large audience by using their automated mailing service.
---
The good & the bad
The good
pro #1 Integrations
More than 700 third party integration in multiple categories are available that seamlessly go together with your Aweber account.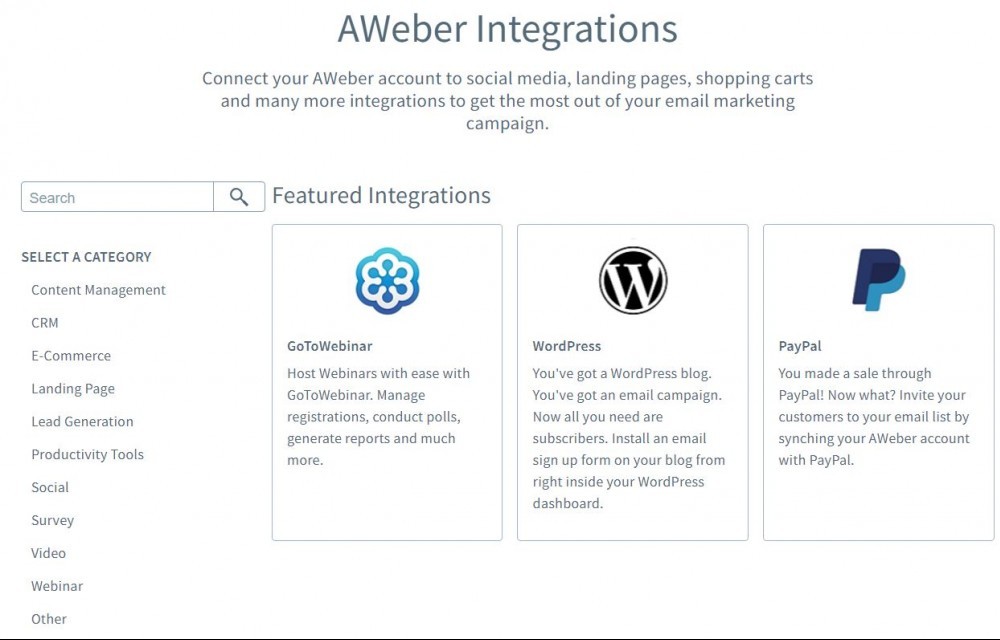 pro #2 Broad terms of service
Since a lot of people that promote things like affiliate offers use email marketing a service that allows them to do it is essential. While there are a lot of autoresponder platforms that are against it Aweber allows it.
pro #3 Affordable
Compared to a lot of other platforms Aweber is relatively cheap with their lowest plan being $19/ month and having all the features available.

The bad
Con #1 Aweber is kind of slow
Aweber is a little slower with loading subscribers and uploading lists compared to some other email marketing services.
---
Who is the product for?
Small businesses planning on using affordable email marketing to communicate with a large group of email subscribers. While some email marketing services exclude certain people such as affiliate marketers Aweber allows it them to use it.
---
Aweber Features, tools & training
Email Newsletters
Create email newsletters with Awebers drag -and drop editor. It's a WYSIWYG editor so no code is required.
Blog Newsletters
Use Aweber's RSS to email function to send your blog posts to your readers.
Email automation
Save time by automating the entire process and reach all your readers in a fraction of the time if you did it manually.
Email analytics
Easy to use analytics tool which makes it possible to gather information segmenting and optimizing your subscribers.
Email deliverability
Aweber makes sure your email gets to the inbox of your subscriber and won't be regarded as spam.
HTML email templates
Aweber provides over 700 mobile responsive email templates. All are customizable.
Subscriber management
Collect, segment and manage your email subscribers with the manage subscribers feature.
Subscriber segmenting
Through segmentation, Aweber makes it possible to send highly targeted and relevant emails to your subscribers.
Autoresponder
Create email sequences to keep your subscriber list engaged without having to send out thousands of emails manually.
Landing pages
Connect Aweber to your landing page to seamlessly funnel people that opt-in into your email list.
Drag and drop editor
WYSIWYG editor that makes it possible to personalize your campaigns without needing to know how to code.
Free live webinars
Join the free live webinars given by expert email marketers.
Integrations
Aweber makes it possible to connect your account to shopping carts, social media accounts, landing pages, and many more. It's possible to integrate with platforms such as word press, PayPal and shopify.
---
Aweber Support
Customer solutions team
Customer support is available for any question you need 7 days a week from 8AM-8PM EST. You can reach the support team via phone, email, and live chat.

Knowledge base
Aweber has a database containing 800+ articles that can help you with setting up successful campaigns, scale your business and automating the communication with your subscribers.
Aweber blog
Aweber has their own blog on which they post articles geared to optimizing your email marketing and informing people about changes in the email marketing world.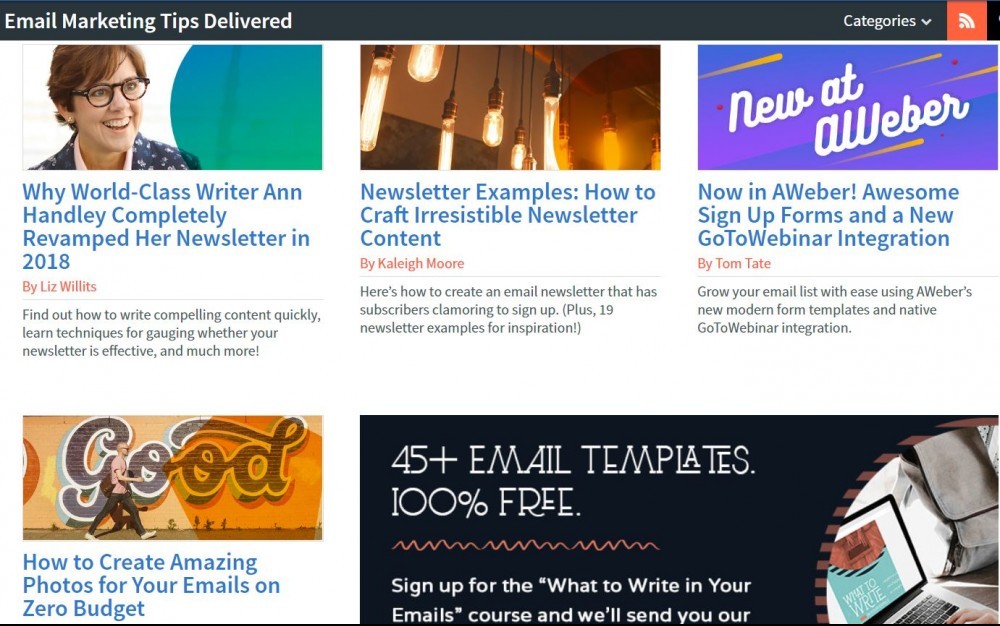 ---
Aweber price
30-day free trial
Not ready to make a financial commitment just yet. Try out there 30-day free trial.
The services for every plan are pretty much the exact same. The only difference is how many subscribers you're able to have with each of the 5 plans.
Pricing plans
$19/mo 0-500 subscribers
$29/mo 501- 2500 subscribers
$49/ mo 2501- 5000 subscribers
$69/ mo 5001 – 10.000 subscribers
$149/ mo 10.000 – 25.000 subscribers
Custum quote 25.001+ subscribers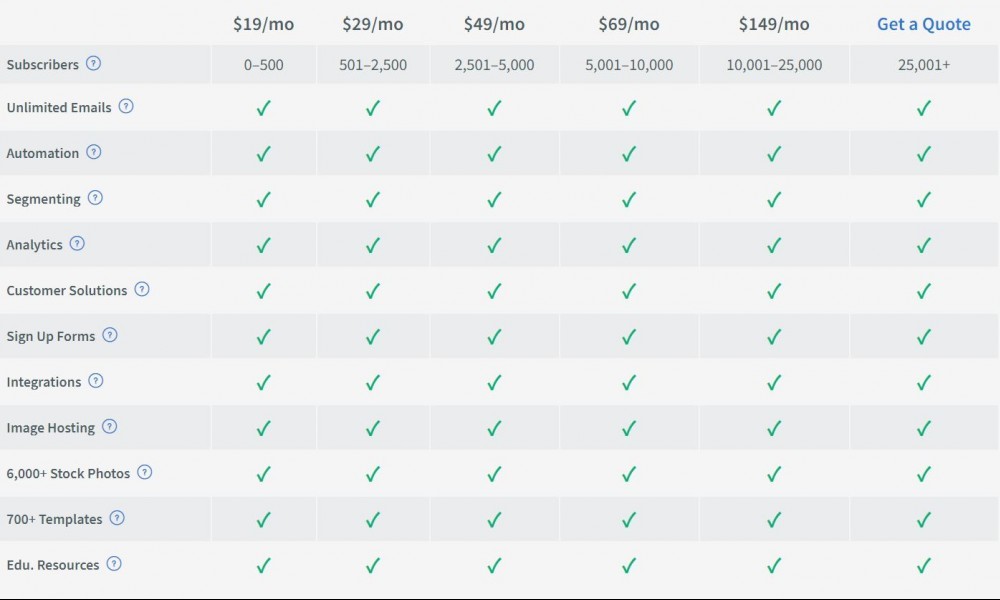 ---
My personal take on Aweber
A lot of people I talked to see Aweber as an outdated platform compared to all the other email marketing services, but honestly I really don't see it that way. It might be a little slower with importing lists but it can do almost everything other platforms do and for an affordable price.
Aweber also doesn't have extreme terms of services which some other email marketing services do have. I've known people that didn't read the terms of other services and had the lists they built deleted because they were going against the terms.
I personally like Aweber a lot.
---
Aweber overall overview
Name: Aweber
Website: Aweber.com
Founders/Owners: Tom Kulzer
Price: 30 Free trial, $19 – 149/ month
Overall ranking: 7.5/10
Verdict
Real Digital Success finds Aweber Guilty of being a good platform to use for your email marketing if you're a small business.