This is a comprehensive Easy Pro Funnels review. Right now a lot of people are making money online with affiliate marketing but that doesn't mean it's an easy thing to succeed in. More people fail than succeed in affiliate marketing.
Easy Pro Funnels strives to make the journey to success as easy as possible with funnel templates but has Easy Pro Funnels really made the process to online success as simple as they claim on their website. Let's find out right now.
In this review I'll be sharing:
How Easy Pro Funnels works
who can benefit from using Easy Pro Funnels
pros and cons of Easy Pro Funnels
warning signs & misunderstandings
my personal take on Easy Pro Funnels
alternatives to Easy Pro Funnels
I'll start this off by saying Easy Pro Funnels is definitely legit but it's not for everybody in my opinion. It doesn't put a lot of emphasis on driving organic traffic to your pages which makes it not so ideal for beginners that don't want to spend money on advertising.
If you're a beginning affiliate marketer or want to become one I'd highly recommend taking a look at the online training platform that taught me how to create a professional looking website, market it with organic rankings and PPC, and how to make money from your website.
Sign up for free (no credit card needed)
Click Here To Find Out About A Legit Way To Make Money Online
Easy Pro Funnels Review
---
Overview
Name: Easy Pro Funnels
Website: easyprofunnels.com
Founder: Matt Garett
Price: $67, now temporarily $47
Rating: 7.5/10
Similar to: Digi Funnel Lab Pro
---
How does Easy Pro Funnels work?
Easy Pro Funnel is an affiliate marketing product that uses software to make pages to promote your affiliate products. Easy Pro Funnels uses templates that you just need to fill in. You can have an entire sales page operational in 30 minutes even if you know nothing about building a sales page.
Here's a video demo of how the product works from Matt Garett's YouTube account.
Video demo Easy Pro Funnels
Who would benefit from purchasing this product:
Affiliate marketers that primarily use PPC to promote their affiliate products
People that don't want to spend time creating funnels
People that don't know how to create websites
People that already have created a traffic stream
Who shouldn't purchase this product:
People that can't invest money into paid advertising
People that truly want to learn the ins and outs of affiliate marketing
People that want absolute freedom when it comes to picking their affiliate products
The reason I wouldn't recommend this product to these two groups is because Easy Pro Funnels doesn't spend a lot of time on driving traffic to your website without needing money ( in my opinion). There are video tutorials about SEO but I've seen programs that offer a lot more support in this area.
If you already know how to drive traffic to your page this product is absolutely perfect.
---
Pros and Cons
Pros
Funnel Templates
Instead of spending the time to learn how to create effective funnels you can just use their templates and fill in your information and have a funnel set up within minutes.
The free products you can use for lead generation and sales
No need to make your own free products for lead generation, giveaways, and bonuses. Easy Pro Funnels has a library of products that you can give away for free.
Auto approval for almost all of the JVZoo Affiliate products
Not everyone can promote JVoo Affiliate products. There are requirements that have to be met. With Easy Pro Funnels, you get instant approval for every product on JVZoo.
Cons
Lack of emphasis on free lead generation
Easy Pro Funnels does provide you with free lead generation tutorials but they don't put an emphasis on training their clients. This means a lot of people that are relying on SEO or social media marketing are going to have a hard time when they encounter problems that go beyond the X's and O's of what Easy Pro Funnels teaches.
Limited to products from JVZoo, Warriorforum, and Clickbank
The software, for the most part, is only limited to affiliate products that are on either JVZoo, Warriorforum or Clickbank.
Limited styling options
The styling options for your webpages are limited. Most of the pages while effective seem a bit dated. I understand that they do this to save people from themselves but having more styling options would be handy for those that know what they're doing and want to do more with their branding.
---
Features
The moment you purchase Easy Funnels Pro you get access to:
Pre-built funnel templates
Integration with email marketing services Getresponse and Sendgrid
Guaranteed Approval for JVZoo affiliate products
Affiliate link cloaking
Exit pop-ups for email marketing list building.
Subscriber and sales analysis tools
Pre-built webinar pages
Pre-built product review pages
Library of giveaway products for your subscribers
Library of products that can be used as lead magnets
Discount vouchers to stimulate sales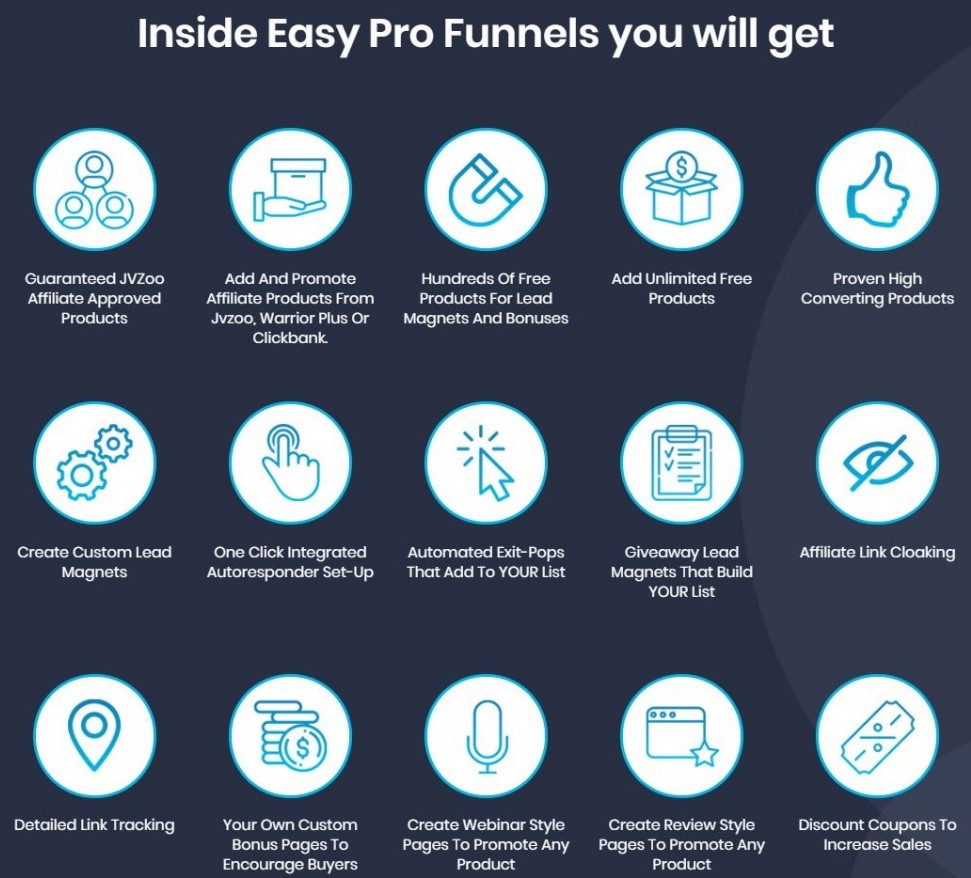 ---
Screenshot from Easy Pro Funnels
I realize not everyone likes to watch video's so I thought I'd add some screenshots to the review so you can get an idea of what to expect when you purchase this product.
Lead magnet screenshot
As you can see here the process of making the pages for your website are really simple. You just have to fill out the text and add links to the lead magnet and the autoresponder you're using to capture emails.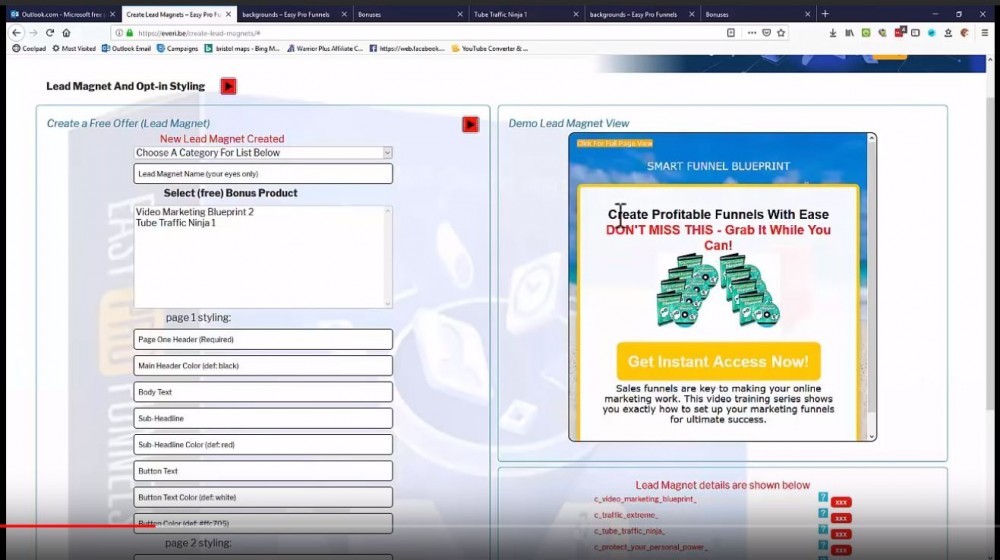 Webinar and Sales Page screenshots
Just like with the lead magnet the same process applies here. You can create a review or webinar style page just by filling out the text, adding an affiliate link, and choosing how you want to style the page.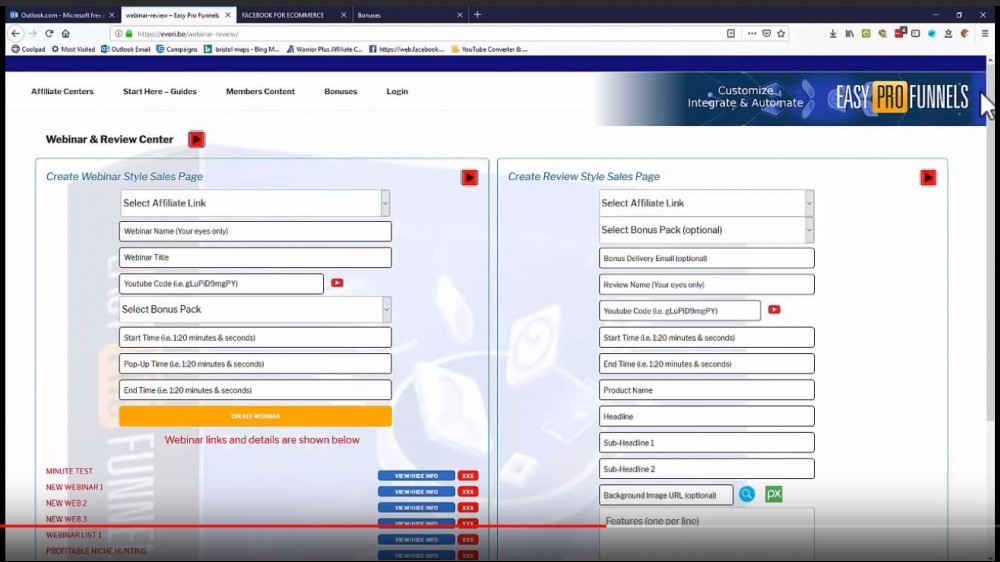 Here are some examples of how the webinars and review pages look in the walkthrough video on the sales page of Easy Pro Funnels.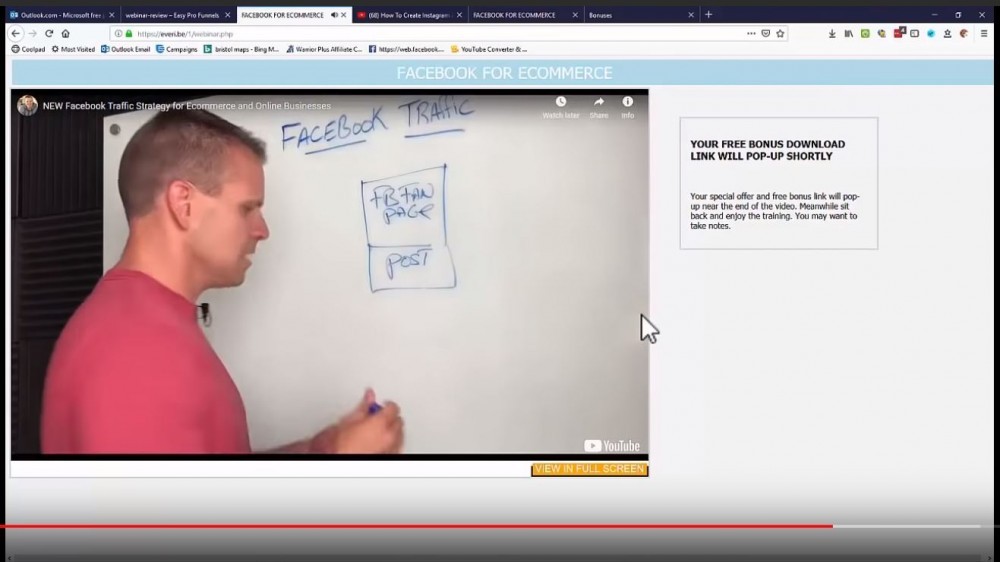 ---
My Personal Take
I think Easy Pro Funnels is one definitely one of the best affiliate marketing software out on the internet right now. Just like the website says you can have your affiliate business set up in a short time.
There are a lot of tasks you have to deal with as an affiliate marketer that most people don't think about. We know about building the website and creating content but you also have to deal with creating funnels, writing sales copy, creating lead magnets, bonuses, creating newsletters and more.
Most of the less obvious tasks are being done for you with Easy Pro Funnels.
In my opinion, Easy Pro Funnels is ideal for people that use paid advertising to get people to their website. The moment you don't have the money for paid advertising or you just want to do it with organic traffic it isn't that ideal anymore.
As someone that promotes affiliate products but didn't have the money for PPC I had to put the focus on getting ranked on Google ( which I advise everyone to do because it sets you up with a solid foundation.) this meant getting the proper SEO training.
Although Easy Pro Funnels also provides you with SEO training I have seen programs that go more in-depth with it because they put the emphasis on it.
---
Verdict
Is Easy Pro Funnels Legit? Yes. it's an excellent affiliate marketing product but it's not the best one online.
I'd recommend this product if:
You can spend money on paid advertising
Don't mind that you can only use products from JVzoo, Warrior forum, and Clickbank
Don't want to deal with the technical side of affiliate marketing
You're more interested in creating a simple income generator and not work on branding
---
Alternatives For Easy Pro Funnels
You might not be in that category of people I'd recommend this product too but that doesn't mean there aren't alternatives more suited to you.
One of these products is an affiliate marketing training platform called wealthy affiliate. Especially for those that aren't comfortable with spending money on advertising, this could be a good option.
It's the platform that taught me how to create an online business revolving around a niche of your choice and make money from it.
Click here to read my wealthy affiliate review
That's all for today. If you have any questions or you just want to show some love don't hesitate to leave a comment.
See you at my next post!