Welcome to my Gigwalk review.
You probably came to this page because you wonder if Gigwalk is legit or a scam.
No need to worry you're in the right place.
Over the last 3 years, I've been busy creating reviews about all kinds of online products and websites.
Some turned out to be fake others were legit ways to make money online but in the process, I learned how to spot scams. Gigwalk is one of the websites I reviewed.
In this post, I'll show you absolutely everything you need to know about Gigwalk and after reading it you'll know exactly if you should give it a chance.
Gigwalk Review — Is Gigwalk A Scam?
---
Overview
Name: Gigwalk
Website: gigwalk.com
Founder: Ariel Seidman, Dave Watanabe, Matt Crampton
Product Type: Micro Jobs for money
Price: Free to sign-up
Summary:
Remotasks is a website where you can perform "micro" jobs posted by companies in exchange for money. It's a bit different compared to most micro job websites because the jobs get done off-line but you get paid the same.
Depending on the difficulty of the jobs you can earn more money. After reviewing the website, I have concluded that Gigwalk is a viable option for a very specific group of people.
Read the review to find out why I say that and for who it is.
Similar to: Hive Micro, Remotasks
Recommended: Yes but it's not for everyone
---
What is Gigwalk?
Gigwalk is a company that helps businesses collect data and execute tasks at scale. They do that by enlisting independent workers they call "Gigwalkers" to evaluate the performance of products in stores.
Gigwalk was founded in 2010 under the name Gigwalk inc. by Ariel Seidman, Dave Watanabe, Matt Crampton. According to their website and WHOIS record, Gigwalk headquarters is based at 539 Bryant Street, Suite 401 San Francisco, CA 94107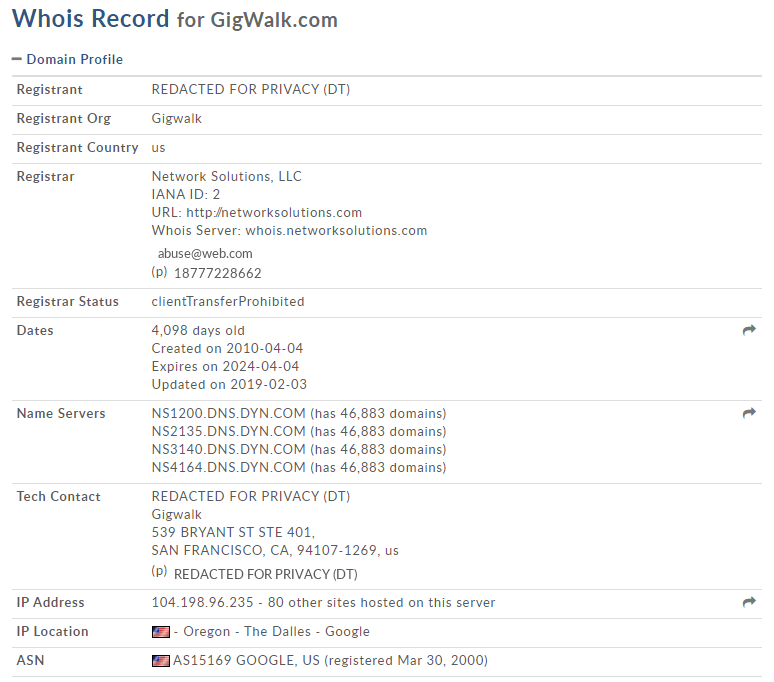 How does Gigwalk work?
Gigwalk is used by companies such as Deloitte, Pfizer, and Unilever to get data. They post a gig on the Gigwalk platform and the members are known as Gigwalkers will perform these jobs and the data will be sent back to the companies.
To make money on Gigwalk you'll have to follow a 3-step process:
1. Download the Gigwalk App
You can download the app on your mobile phone. The app is available on both iOS and Android. On the app, you'll have to fill in the sign-up form, complete the account, and confirm which of the required skills you have.
2. Apply for a job
You can use the app to find jobs close to you. You can sign-p for a job and the moment you're chosen and you'll get a notification and you can perform the job.
3. Get paid
After you complete the job, the data will be sent to Gigwalk. As soon as your work is approved you'll receive a payment within 14 days.
Who can benefit from Gigwalk?
Who would benefit from Gigwalk:
People that want to earn pocket money
People that live in the US and Canada
People that want to do small jobs off-line
Who shouldn't invest in Gigwalk:
People that want to make a full-time income
People that want to make a decent side income ($200 or more)
People that want to work from home
---
Pros and Cons
Pros
Operational on mobile devices
Flexible
Paid out in Paypal
Cons
Job availability is location dependent (only in the US and Canada)
Jobs are only in heavily populated places
Follow-up assignments can take place after you're done before getting paid.
---
Gigwalk Jobs
Unlike most online micro job platforms, Gigwalk is focused on supplying companies with data that comes from physically being at locations. This means if you want to work from home this isn't the platform for you.
From what I have seen on the App, you'll be performing minor store audits.  As a Gigwalker, you'll be asked to:
Take photo's
Indicate of everything in stores is up to par
Count the number of products on a storefront
Noting working hours
etc
These are all simple jobs that can be done within 30 minutes.
Gigwalks rules
When you apply for the jobs a disclaimer will be shown with a few rules. I have listed them below so you'll know exactly what is needed to make money with Gigwalk.
You have to physically be at the location
Don't sign up if you have corona like symptoms
You will not be paid if you pick a location and arrive when it's closed
Gig must be completed during open business hours
If a gig is offered twice at the same location, you will only be paid for completing the gig successfully once.
They can ask you to follow up after doing the gig if they need more information.
---
How much money can you make with Gigwalk?
Does Gigwalk work? Yes, but the earning potential isn't as much as advertised. Most tasks are within 20-40 minutes and you'll earn $4. This is less than minimum wage in most western countries around the world.
A few other things you have to take into account when doing these jobs is the time it takes to get to the stores. You aren't getting compensated for making the trip.
You also can't do the same job at the same store twice which means eventually you'll have to go further and further from where you live to make money.
The maps below can give you an indication of how many jobs there are available in most neighborhoods. At the most, you can get some pocket money out of Gigwalk but you won't earn a full-time income.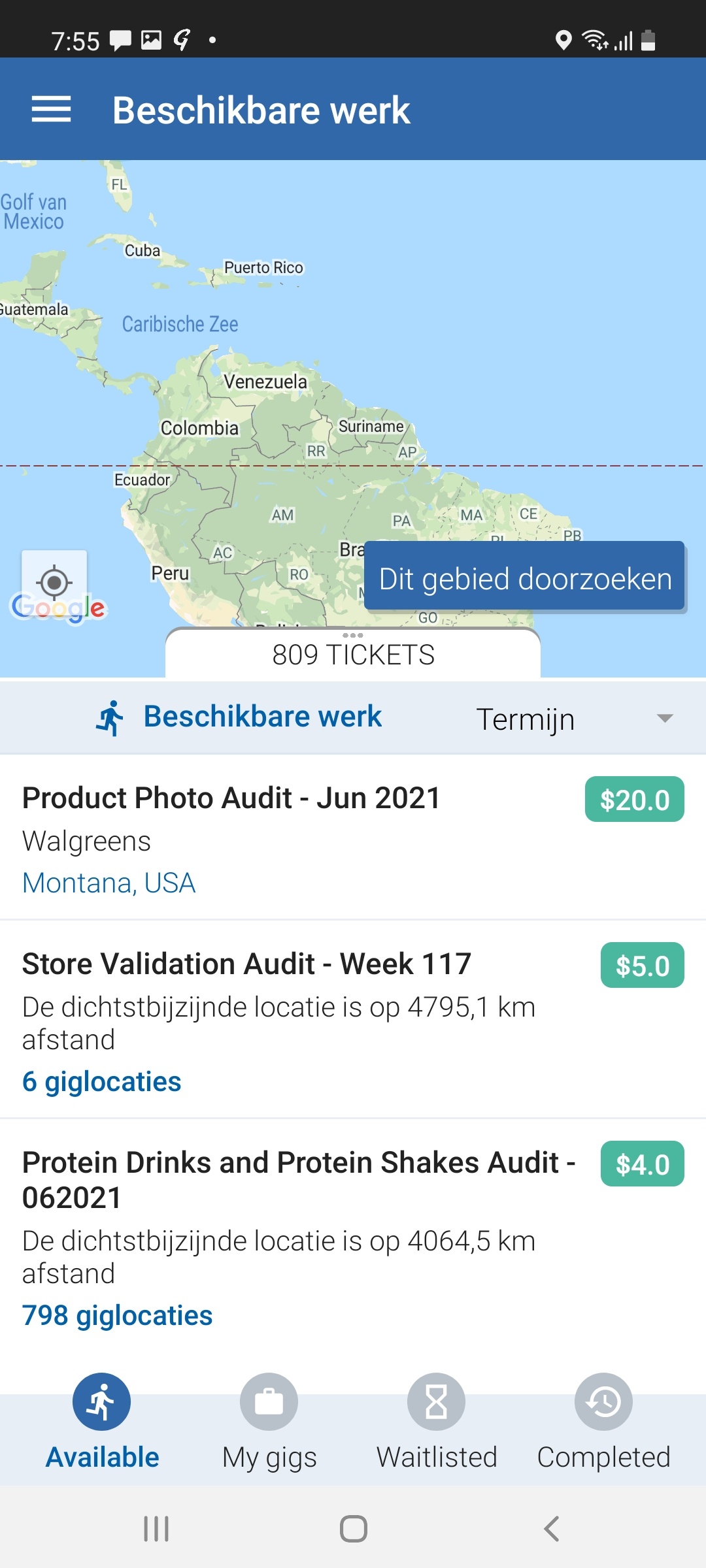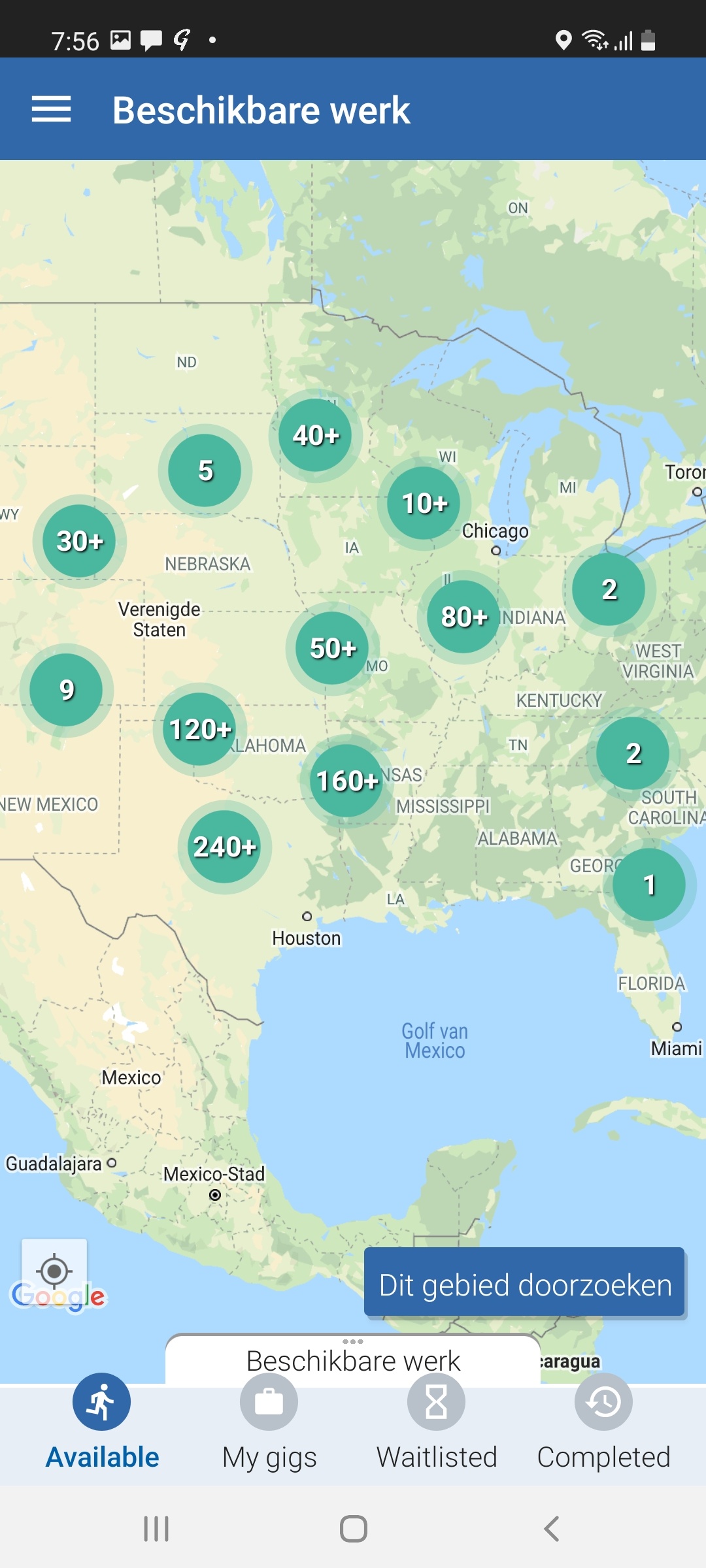 Gigwalk alternatives
Since you can't repeat gigs at the same location I thought it'd be handy to give you a few alternatives that you can resort to when needed.
1. Spare5
website: Spare5.com
Unlike Gig walk, most of the tasks that can be done for money don't require you to physically be at the location. You earn around the same amount of money as Gigwalk. A big difference is that they currently don't have an app yet that you can use on your mobile phone.
2. Cashkarma
website: https://www.cashkarma.io
Cashkarma is a get-paid-to website on which you can make money by completing surveys. Cashkarma does have an app that you can use on your mobile phone. The earning potential is the same as Gigwalk.
Other options are Easy Shift, QuikThoughts, Inboxdollars.
Interested in making more than some pocket money? Read about my #1 recommendation for making money online.
---
My Personal Take
It's a great app for people that live in the US but the earning potential is too low for my taste. The fact that you can't repeat a gig at the same location forces you to find gigs further away from home which takes more time.
Nevertheless, It's perfect as a temporary method for making pocket money. If that is what you're looking for try it out. On the other hand, if you're looking for a way to make a sustainable full-time income online keep reading.
---
Verdict
Is Gigwalk a scam? No Gigwalk is not a scam. It's useful for making pocket money but not ideal for people who want to make a full-time income.
---
How to make a full-time income online
Gigwalk is perfect for earning pocket money but looking at reviews on some of the rating websites a lot of people were expecting to earn more than that.
Making decent money online isn't an overnight thing it takes time. This is why if you're going to invest the time it should be in something worth the money.
Learn how to make more than some pocket money with
my #1 recommendation for making money online.

That's all for today. If you have any questions or you just want to show some love don't hesitate to leave a comment.