Welcome to my Bonusjunkies.co review.
You probably came to this page because you wonder if Bonusjunkies.co is legit or a scam?
No need to worry you're in the right place for the answers to these questions.
Over the last years, I've been busy creating reviews about all kinds of online products.
Some turned out to be fake others were legit ways to make money online but in the process, I learned how to spot scams.
In this post, I'll show you absolutely everything you need to know about Bonus Junkies and after reading it you'll know exactly if you should give it a chance.
Bonus Junkies Review — Is Bonusjunkies.co A Scam?
---
Overview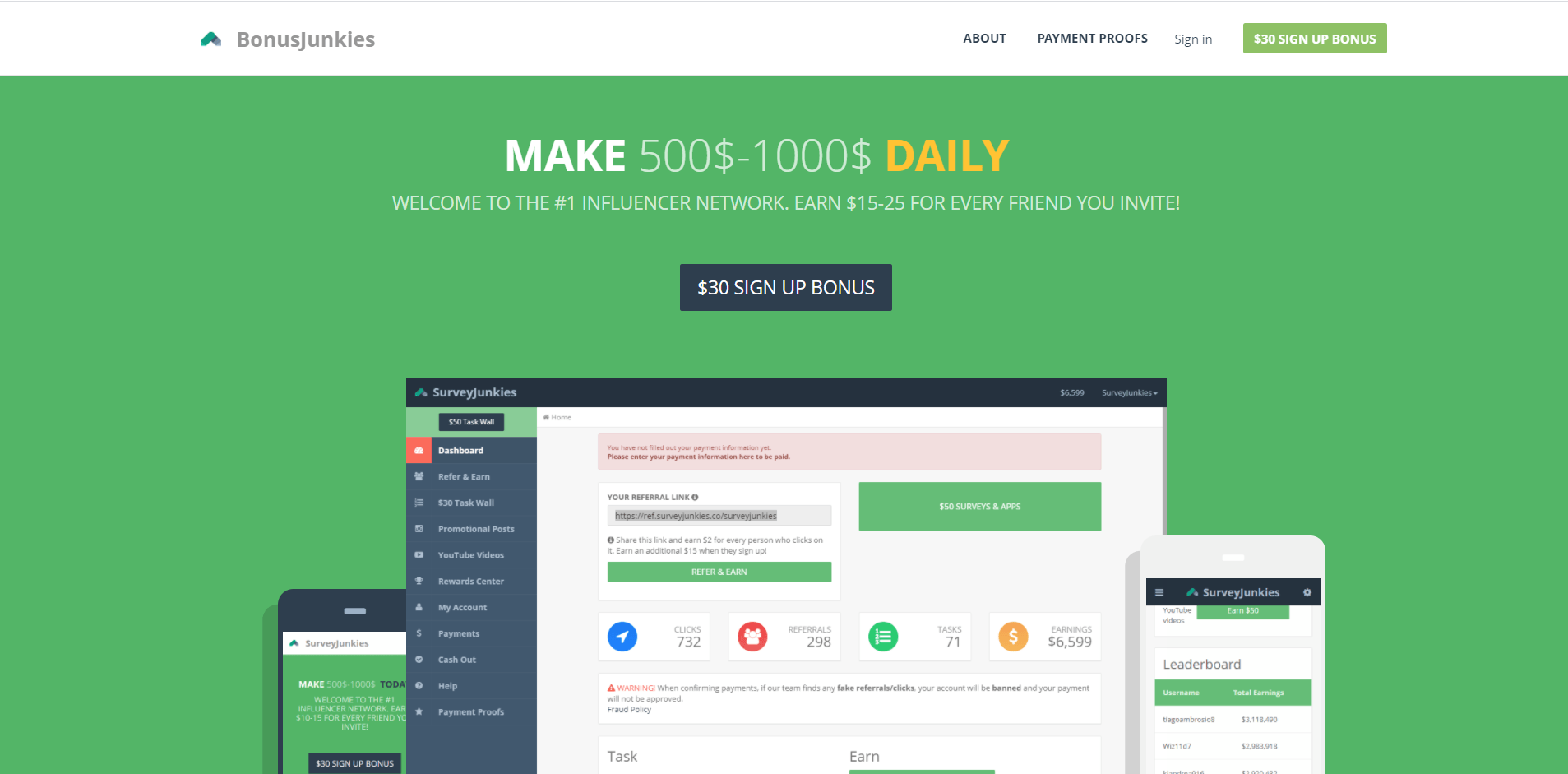 Name: Bonus Junkies
Website: Bonusjunkies (dot) co
Founder: Unknown
Product Type: Influencer earning network
Price: Free
Rating: 1/10
Summary:
According to the Bonus Junkies website it claims to be the #1 Influencer Earning Network. They help people earn money by providing its members with links that refer to their website. Every time you refer someone and they sign-up you'll receive money.
Bonus Junkies is without a doubt a scam website that gathers people their information and sells it to others.
Similar to: NextCash, Tap2Earn, Use2earn, KashTree
Rating: 1/10
Recommended: No
---
What is Bonus Junkies?
Let's start with what Bonus Junkies says it is and after that, we'll get into the truth about BonusJunkies.co.
Since information about Bonus Junkies is almost non-existent outside of their website I'll start by explaining what Bonus Junkies claims it is on their website.
According to Bonus Junkies, they're the #1 influencer network which is a very bold claim to make especially when there are 2 certain platforms run by a guy named Mark Zuckerberg.
You might have heard of them they're called Instagram and Facebook.
Bonus Junkies says it helps its members make money online by referring people to Bonus Junkies using unique links that get provided by Bonus Junkies.
The business was founded in March 2015 in Amsterdam and has worked with some of the biggest brands and has partnered up with 300 companies and has won multiple awards.
If you read my last review about Next Cash you'll notice that this sounds awfully familiar but I'll get into that later in the review and why this isn't a good thing.
How does Bonus Junkies work?
Bonus Junkie is making some very bold claims on their website such as it being possible to earn $1000 daily. They say this is possible by following a 3-step process.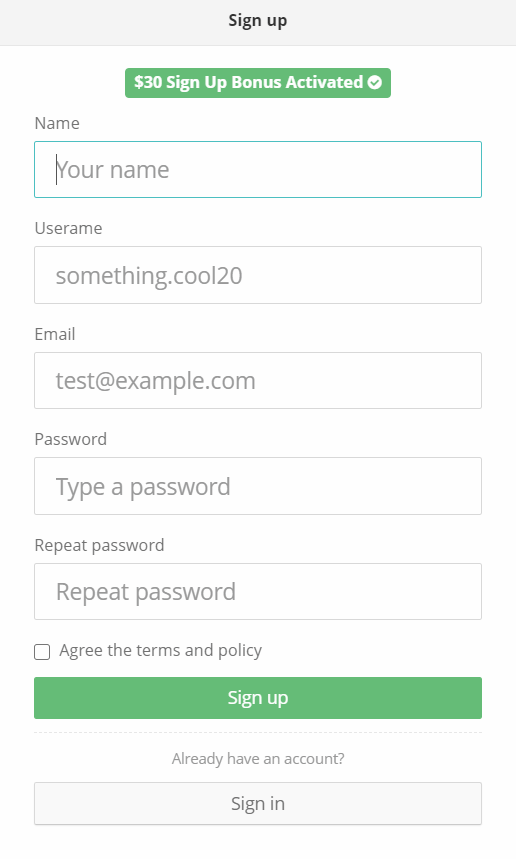 1.Join Bonus Junkies
You can sign-up on the Bonus Junkies website.  According to their website, the moment you become a member you become part of their community. The funny thing is there is no way to contact other people that have joined Bonus Junkies.
It could be that they're trying to prevent people from communicating with each other.
2.Share and earn
After you signed up you get access to their member's area. Here you can find all kinds of walls with get-paid-to tasks that you can do and you'll be provided with a special link that you can use to refer people to Bonus Junkies.
On the website, they say you'll earn $15 for every friend you invite to Bonus Junkies and becomes a member.
3.Get paid
The moment you refer people and they become members you'll see your balance go up and you can cash out. Bonus Junkies claims it pays its members through Bitcoin, Venmo, cash app, and mailed checks.

A referral program is something businesses use all the time but it has to bring in money to work. Most referral programs like this would add a premium membership costs money and give a commission based on that. This doesn't seem to be the case with Bonus Junkies.
Who would benefit from Bonus Junkies?
It's safe to say that since this is a scam website that the only people that'd benefit from Bonus Junkies are the creators of the website and they do that at the expense of others putting time and effort into something that'll never pay off.
---
Bonus Junkies red flags
I always give websites the benefit of the doubt normally because credibility is one of the most important factors when it comes to having a successful online business.
Some websites might come off as scams but just aren't run well which causes them to be late with payments, communications, etc.
Bonus Junkies isn't one of those cases. I believe that because of the list of red flags that I have placed below.
Red Flag#1: Clone of other websites
Bonus Junkies is nothing more than a clone website designed to get people to sign-up and invite others to do the same.
There are at least 10 other websites online that look exactly the same, have the same "about" page, promises the same things, and doesn't deliver on any of those promises.
Take a look at these about pages: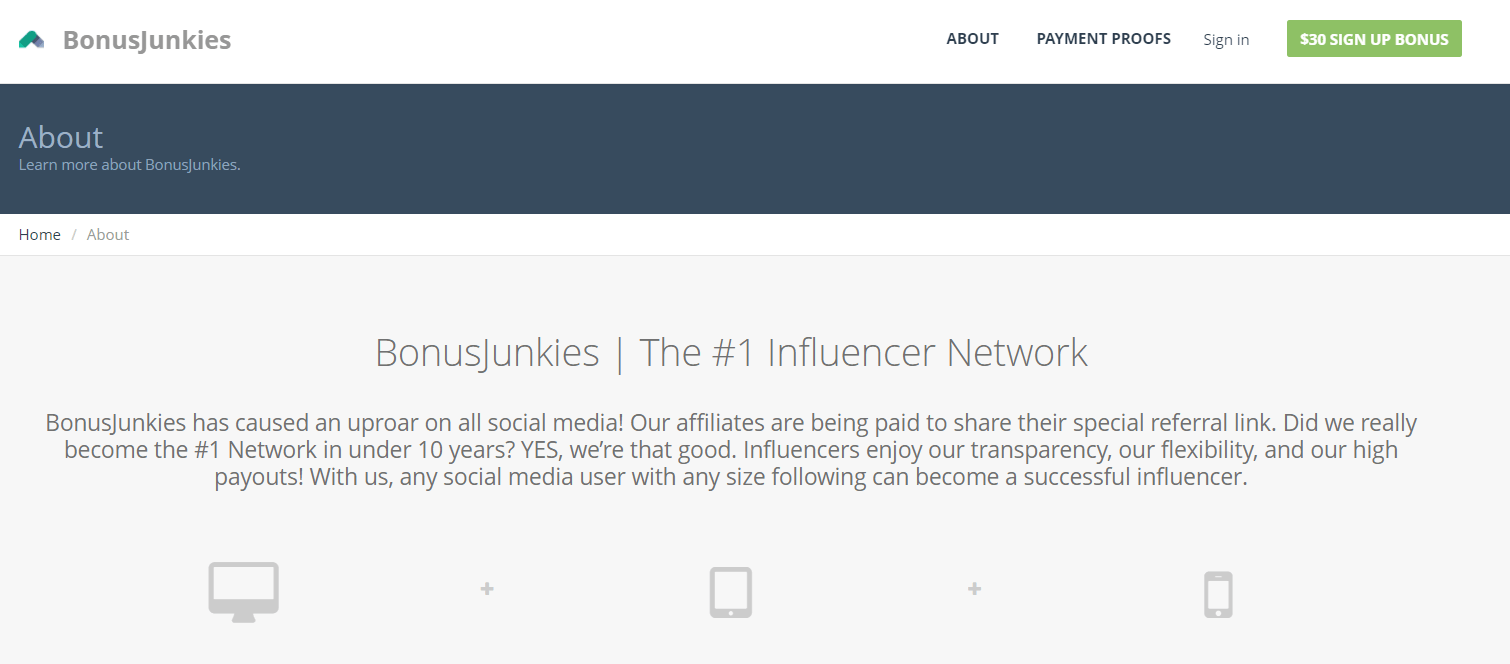 Red Flag#2: No social media presence even though marketing model relies heavily on social media
When you start looking on social media you'll notice that Bonus Junkies has no following or any kind of social presence. Normally this doesn't have to be a red flag but in this case, it's the biggest red flag you can come across.
Why is that?
The earning model is based on advertising Bonus Junkies on social media. Members get special influencer links that they can post on social media.
If Bonus Junkies has paid out several hundred millions of dollars these links should be everywhere especially if they're working with some of the biggest influencers on social media.
I'd understand them not having a large following if they were just starting out but according to their website they've been around for more than 5 years and have paid out into the 8 figures.
Red Flag#3: The timeline doesn't add up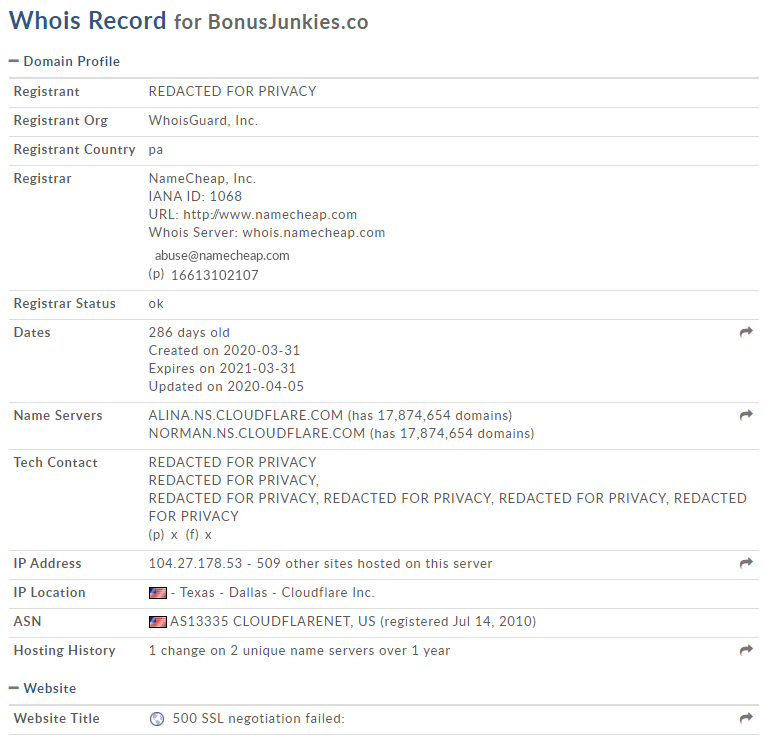 Bonus Junkies has this amazing timeline on their "About" page that says that they started Bonus Junkies in 2015 in Amsterdam.
This is very interesting because when I looked up the age it was created in March of 2020.
The timeline also says that Forbes named them the #1 influencer earning network. I have used some Google operators to find out if they were mentioned anywhere on the Forbes website.
I couldn't find anything which makes sense because there's no way this website not known by anyone is rated higher than Facebook, Instagram, and Youtube by Forbes.
They also forgot to change the name in the copy multiple times. I'm guessing this timeline was originally used for a website named survey junkies and they just copy-pasted it on this website but were too negligent to change the name everywhere.
Red Flag#4: No information about the creator
The website show's an entire timeline that goes through the creation of Bonus Junkies and even talks about their achievements but conveniently information about the founder is left out.
When I searched for more information about the creator on other platforms I couldn't find anything either. I have said in other reviews that not mentioning the owner doesn't necessarily mean that it's a scam.
There are a lot of online entrepreneurs out there that just value their privacy but when I combine it with all the other red flags it worries me.
Red Flag #5: The reputation of Bonus Junkies
You might not find a lot of information on social media but there's a lot to be found on Google. There are about a hundred Bonus Junkies reviews out there explaining exactly what they think of Bonus Junkies.
The majority of the reviewers on Google think Bonus Junkies is a scam which is a huge red flag in my opinion.

---
How does Bonus Junkies scam you?
There's no way to 100% know how websites like these scam you but when looking at this website I suspect that they sell the information they gain when people sign-up.
I believe this because they don't charge any money to sign-up and they encourage people to refer as many people as possible to Bonus Junkies.
Information is a great way to earn money and scammers know that. As a company, you increase your chances of selling your products and services if you know where to find interested people and know what they're thinking.
That's is why companies are willing to pay a lot for this information.
I think Bonus Junkies takes all the information about their members and sell it to the highest bidders. Aside from that, Bonus Junkies won't pay their members for their work.
---
My Personal Take
After researching Bonus Junkies, I have to say that it didn't leave a great impression on me. It was exactly what I thought it was when I first glanced at it. It's basically a copy of websites like Tap2earn, NextCash, and Use2earn.
A website that encourages you to refer people to their website so they can do the same. It kind of reminds me of a pyramid scheme but instead of the creators trying to scam you out of your money, they are after your information.
I wouldn't recommend Bonus Junkies to anyone.
---
Is Bonus Junkies A Scam?
Yes. Bonus Junkies is without a doubt a scam.
---
How I and thousands of others make money online
Bonus Junkies might not be what you thought it was but that doesn't mean there aren't legit methods to make money online. When you look at the people that are making a consistent full-time income online they all have one thing in common.
They have an income-generating website.
If you want to make money online from anywhere including your own home by making content about what you love I recommend you to look at Wealthy Affiliate.

It's the platform that taught me a simple model you can copy in the form of a step-by-step course that teaches you how to create an income-generating niche website.
That's all for today. If you have any questions or you just want to show some love don't hesitate to leave a comment.
See you at my next post!